About
Hypertherm's Sensor™ plasma torch height control (PHC) is an easy-to-use, highly reliable voltage-sensing height control for conventional plasma piercing and cutting applications. Requiring no operator input while cutting, the controller offers separate settings for both pierce and cut heights to automatically position the torch.
The Sensor PHC is compatible with any computer numeric control (CNC) and a broad range of plasma systems, and is easy to install on new or existing conventional plasma cutting tables. The Sensor PHC delivers improved performance at a significantly lower cost than other height control solutions.
| | |
| --- | --- |
| Type | Height controls |
| Product line | ArcGlide and Sensor |
| Material type | Mild steel, stainless steel, aluminum |
| Applications | |
Better consumable life
Individual pierce height and cut height settings let you optimize for the specific operation at hand
Ability to set a higher pierce height protects consumables by moving the torch away from the spatter
Note: Results of standard lab pierce and cut tests using a Powermax system at 80 A.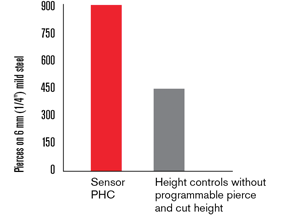 ---
Improved cut quality
Built-in magnetic breakaway ensures consistent torch positioning during cutting and accurate recovery after collision or consumable change
Reduced operator intervention minimizes the possibility of human error
Simple operational controls and fault indicators make training, operation, and diagnostics quick and easy
The following cut-edge angle dimensions were measured at the beginning and end of a 450 pierce-and-cut test for both setups.
1st cut sample,
maximum kerf angle
451st cut sample,
maximum kerf angle
No PHC
4°
11°
Sensor PHC
3°
4°
Angles were measured on all four sides, all four samples. The lower the number, the better the cut quality. The angles will vary with thickness.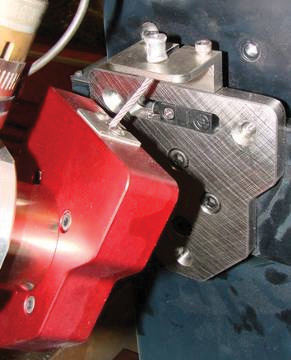 ---
Maximum speed
5120 mm/m (200 ipm)
Range of motion
150 mm (6")
Arc voltage set-point
50 V – 210 V arc voltage set-point for arc-voltage feedback; accurate to 1 arc-volt
Ohmic contact and stall-force initial height sense
On/off signal provided by CNC
Multiple cable options in various lengths available to suit different applications
* Information subject to change without notice
** User supplied display and keyboard are required
More from ArcGlide and Sensor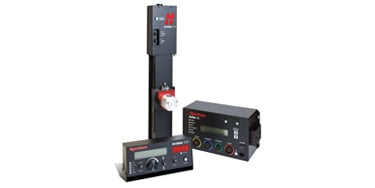 Proprietary THC automatically adjusts arc voltage for proper torch height to improve performance and profitability in plasma cutting applications.
Read more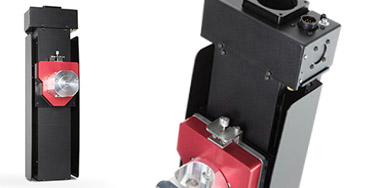 Full-featured torch height control system that can significantly increase the productivity and profitability of your shape cutting operation.
Read more