Powermax45 XP: 64 combinations and counting
By
As part of our research and development process, our marketing and engineering teams are constantly talking with customers to better understand how they use our products and what we can do to make future products better. In addition to the pretty obvious answers having to do with cut quality, cut speed, and consumable life, we've had a lot of customers talk to us our torch and consumable offerings, especially on the Powermax side.
Customers have long had numerous torch options when it comes to oxyfuel cutting but really not so much when it comes to plasma. Manufacturers, Hypertherm included, have traditionally made two kinds of torches—a straight mechanized torch for mounting on a table, track burner, pipe cutter, etc. and a 90 degree torch for handheld use. Customers wanted more torch options, especially a "straight" torch similar to their oxy torch that they could use to get into corners, and a torch they could more easily mount to robots.
We also heard about consumables. Though customers never said "we need more consumable options," they did to talk to us about wanting a torch with a long, skinny tip for cutting in channels and other hard to reach areas. They also told us they wished we made something that could give them more control when gouging.
Our team was listening. Not only did they develop products that can help customers with the type of applications they asked for, they developed products to help customers solve problems they probably didn't even know they had. An example of this would be our 2' and 4' long torches so customers could easily cut scrap and skeletons without having to bend over as much. The result of all this is more torch and consumable options than other cutting product manufacturer, including 64 combinations for the Powermax45 XP alone. Take a look.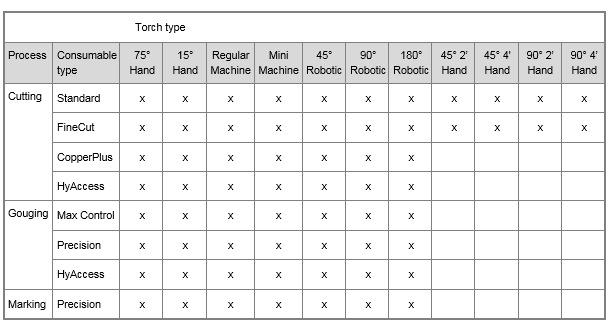 You can do a lot of mixing and matching here, choosing the right torch and consumable type for the job at hand. When you consider the Powermax45 XP's ability to cleanly cut material up to 5/8" (16 mm) in thickness and sever material nearly twice that thick, it's compact size and light weight, and wide range of output power from 45 amps all the way down to 10, you have an amazingly versatile system. It's why we refer to it as the Swiss Army knife of plasma systems. It's small yet capable of handling a wide range of applications.