Innovation

Nearly 50 years of innovation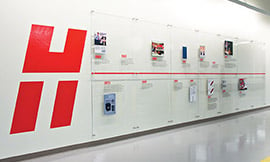 Building on nearly 50 years of experience and 120+ patents, Hypertherm dedicates more resources to industrial cutting research, development, and testing than any other manufacturer. We have always taken a leadership role, and innovation remains a cornerstone of our business.
Hypertherm technology developments
Plasma – Hypertherm innovation dates back to 1968, when water injection technology launched today's plasma cutting industry. In recent years alone, our R&D effort has produced other industry firsts, including HDi® technology for improved cutting of thin stainless, a 15-degree torch for easier cutting in hard-to-reach areas, and integrated solutions to enable the cutting of bolt-ready holes.
Laser – Hypertherm's HyIntensity® systems are the first fiber laser systems specifically optimized for cutting applications, making it easy to produce consistent laser quality across a full range of materials and thicknesses.
Waterjet – Our HyPrecision™ waterjet systems feature Advanced Intensifier Technology™, an innovation that extends maintenance intervals, reduces downtime, and maximizes performance, for a lower total cost of ownership.
Automation – Hypertherm's proprietary Phoenix® software, the core operational interface used by all of Hypertherm's CNCs, sets the industry standard for functionality and ease of use. The CutPro® wizard enables even new operators to be up-and-cutting in less than 5 minutes.
CAD/CAM software –ProNest® software for nesting, cutting, and metal fabrication improves finished part quality, optimizes machine motion, and maximizes material usage. Supporting multiple industries, Robotmaster® CAD/CAM robotic software brings higher precision to trimming and cutting, machining, deburring, welding, polishing, sanding, painting and more.
Consumables – Every year, we introduce patented new technologies to improve performance and extend consumable life. Hypertherm's technology and manufacturing advantages extend to our Centricut® and AccuStream™ brand of consumables for non-Hypertherm systems as well.