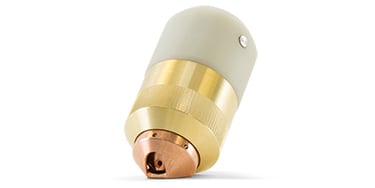 Close cutting applications such as lug and attachment removal are typically done using oxyfuel, carbon arc gouging, or traditional plasma cutting tools. New flush cutting capabilities of Powermax® plasma systems now offer a more efficient process for these operations.
Patented FlushCut™ consumables have been specifically designed to allow Powermax users to cut attachments, lugs, pad eyes and other positive features as close to the base as possible without piercing or damaging the workpiece. An angled nozzle bore design and flat guiding shield enables flush cutting that leaves less than 5 mm (3/16″) residual material on the base or work piece, reducing grinding and secondary repair operations.
FlushCut consumables can be used in both mechanized and handheld applications on the following Powermax torches and systems:
Note: FlushCut consumables are not compatible with Duramax® retrofit torches.
Benefits
Maximum productivity
Heat affected zone (HAZ) associated with flush cutting is approximately ten times less than that of oxyfuel allowing you to cut closer to the base material
Less overall pre-processing time (e.g. no gas setting, purging or preheating) than oxyfuel
Remove lugs and attachments in a single pass compared to carbon arc gouging which requires multiple passes and additional time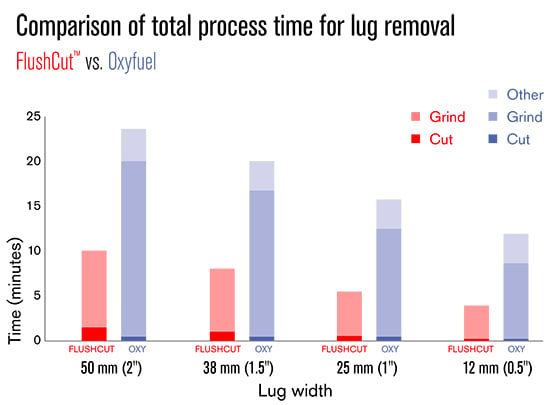 * Based on lab results


Advantages vs. traditional plasma consumables
The angled nozzle bore of FlushCut consumables reduces secondary grinding by leaving minimal residual material
The 45 degree angle of the FlushCut arc allows for lugs and attachments to be removed with a flat bottom, increasing the chances for the lug or attachment to be reused
The guiding flat on the shield helps operators avoid digging into the base plate, reducing the need for costly repairs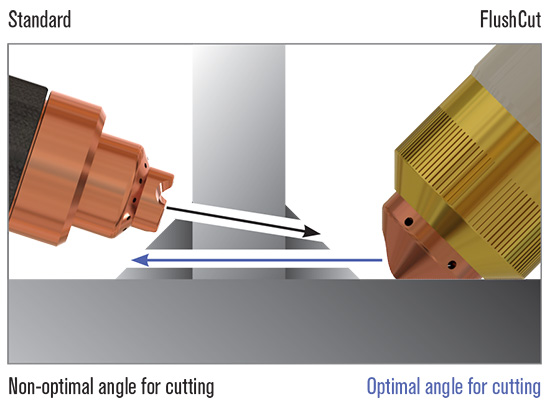 Learn more about advantages of plasma flush cutting vs. oxyfuel, carbon arc gouging, and traditional plasma cutting
Flush cutting with Powermax course on HCI
Read more