50 years of innovation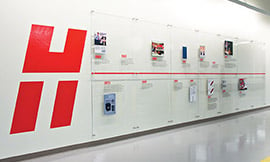 With 50 years of experience and close to 500 global patents, Hypertherm dedicates more resources to industrial cutting research, development, and testing than any other manufacturer in the world. We have always taken a leadership role, and innovation remains a cornerstone of our business.
Hypertherm technology developments
Plasma – From the introduction of a water injection process responsible for launching today's plasma cutting industry to the introduction of the world's first HyDefinition®, and now X-Definition™, plasma systems, Hypertherm engineers are always reshaping people's perceptions of plasma.
Laser – Hypertherm is responsible for introducing the first fiber laser systems specifically optimized for cutting applications, and continues to produce laser products for the world's largest laser OEMs.
Waterjet – Our DynaMAX™ waterjet systems are set apart by Advanced Intensifier Technology™, an innovation that extends maintenance intervals, reduces downtime, and maximizes performance, for a lower total cost of ownership.
Automation – Hypertherm's proprietary Phoenix® software, the core operational interface used by all of Hypertherm's CNCs, sets the industry standard for functionality and ease of use. The CutPro® wizard enables even new operators to be up-and-cutting in less than 5 minutes.
CAD/CAM software – Innovations found inside our ProNest® software is improving finished part quality, optimizing machine motion, and maximizing material usage, while our Robotmaster® software is changing the way companies program robots with an innovative method that relies on offline CAD/CAM programming rather than the traditional teach method.
Consumables – Every year, we introduce patented new technologies to improve performance and extend consumable life. Hypertherm's technology and manufacturing advantages extend to our Centricut® and AccuStream™ brand of consumables for non-Hypertherm systems as well.