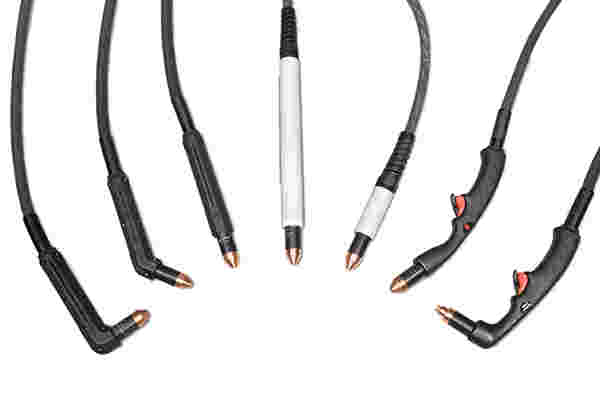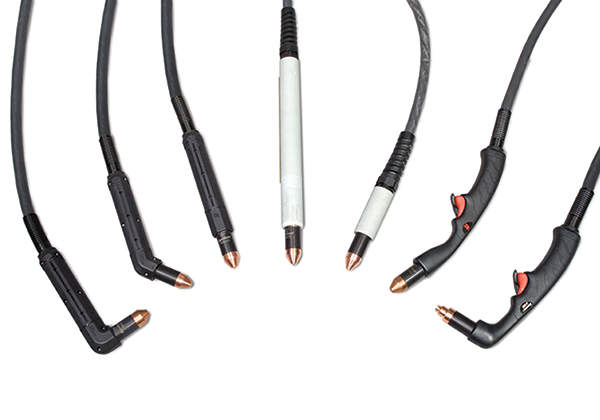 Duramax torches
Designed for durability and reliability with SpringStart™ technology, Duramax® torches are available for handheld and mechanized cutting and gouging, and robotic cutting.
Duramax torches are available with an extensive array of specialty consumable options that perform a variety of applications such as gouging, fine feature cutting, extended reach cutting and cutting flush to base materials (flush cutting).
Torch information
Benefits
For hand cutting and gouging jobs
Duramax® 75° and 15° hand torches are well suited for a variety of applications such as gouging, fine feature cutting, extended reach cutting, and flush cutting. The ergonomic design of the 75° torch is perfect for normal cutting, while the 15° torch directs heat away from the operator during heavy gouging and enables cutting overhead or in hard-to-reach areas.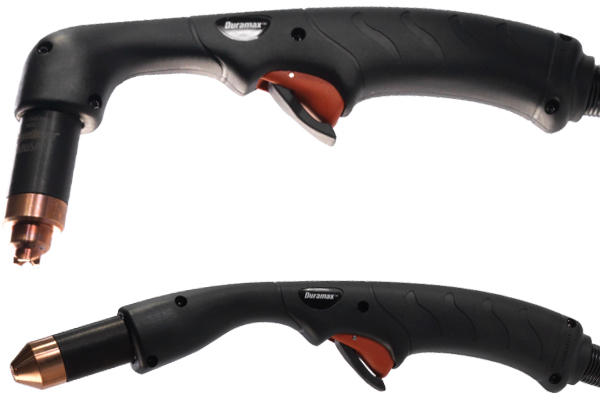 ---
For machine jobs
Duramax full-length machine torches work with a wide variety of CNC cutting tables, track cutters, and pipe-cutters. Mini machine torches are perfectly suited for lighter tables and pipe cutting situations where the full-length torch is too long.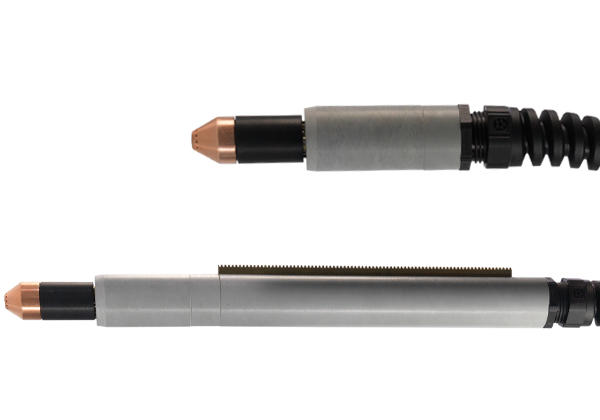 ---
For robotic jobs
The light weight, small size and built-in positioning features of Duramax robotic torches enable easy integration and operation with light robot arms. An optional clamp speeds integration.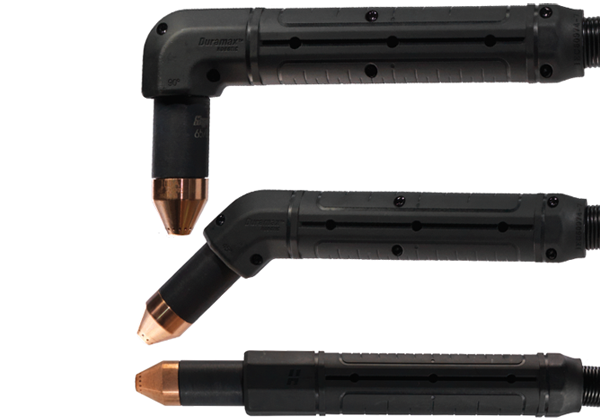 ---
Buying information
Visit our where to buy page to find a potential partner, or contact Hypertherm directly if you need further assistance.
Mechanical teach tool aids programming
Optional mechanical teach tool allows you to touch the plate while programming cutting and pierce heights.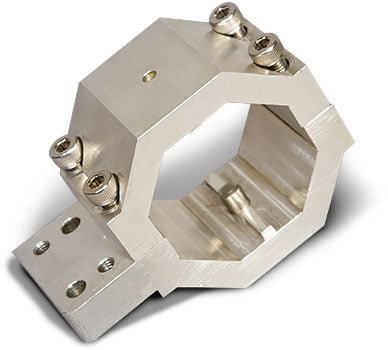 Robotic clamp assembly kit (#228806)*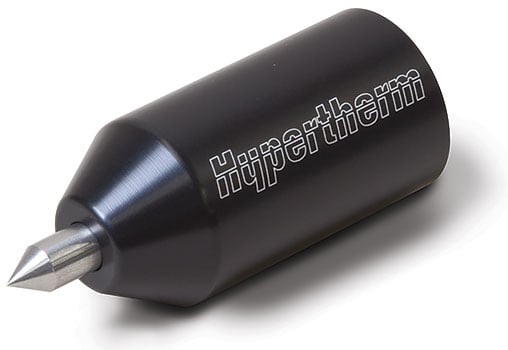 Robotic teach tool kit (#229456)*
*Duramax robotic
Resources
Cartridge adapter brochure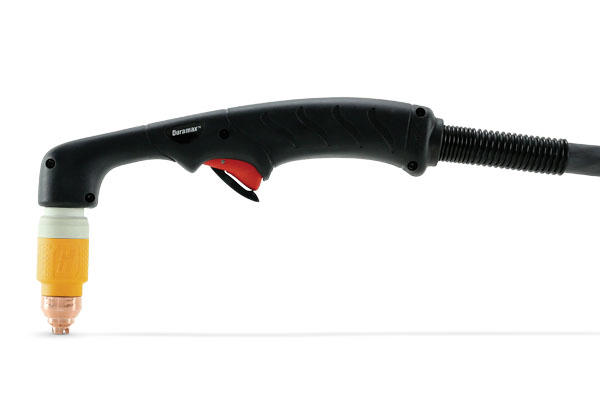 Upgrade to the new cartridge consumable platform!
The Hypertherm cartridge consumable platform is a revolutionary change to standard air plasma consumables. Each single-piece cartridge is optimized by process and amperage to ensure performance while dramatically simplfying the parts needed to cut or gouge with plasma.
Hypertherm cartridges and adapter upgrade
Cartridge adapter
The cartridge torch adapter provides an optional upgrade to convert from the use of standard consumables to the new Hypertherm cartridge consumable platform. The torch adapter allows for conversion to the cartridge platform if you have the following systems and torch types.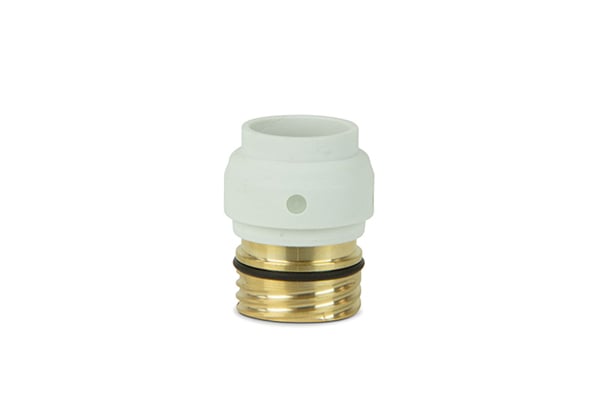 System

Torch type

Adapter part number

Powermax45® XP

Duramax® Lock hand, machine, and robotic

Powermax65®

Duramax hand, machine, and robotic

Powermax85®

Powermax105®
Drag cutting and FineCut® for hand torches
Mechanized and FineCut® for machine torches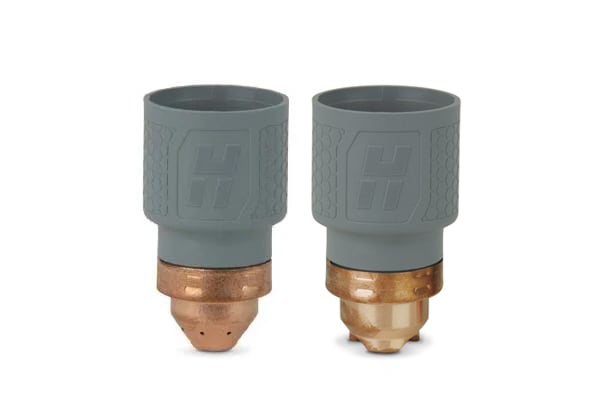 Mechanized cartridges can be used on hand torches if a stand-off is desired.
Hypertherm cartridges

Process

Cartridge

105 A

85 A

65 A

45 A

FineCut mechanized cutting

Ohmic ring kit

(contains 3 #420580 ohmic rings)
Replaces this stack-up

Shield

Retaining cap

Nozzle

Electrode

Swirl ring

220993

220854 or 220953 (Ohmic)

220990

220842 or 220777
(CopperPlus®)

220994

220817
220955
(Deflector)

220816

220819

220857

220941

220948 or 220955
(Deflector)

220930

220947
Max removal and max control gouging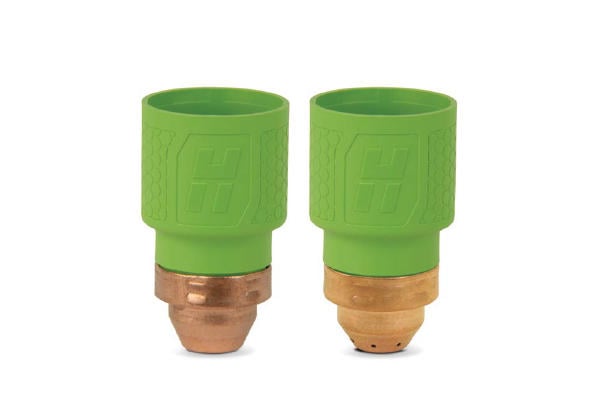 Hypertherm cartridges

Process

Cartridge

Max removal gouging 105 A

Max removal gouging 45–85 A

Max control gouging 105 A

Max control gouging 45–85 A
Replaces this stack-up

Shield

Retaining cap

Nozzle

Electrode

Swirl ring

220798

220854

220991

220842

220994

220797

220857

420480

220991

220994

220797

220857
Standard consumables
---