XPR, HPR, MAXPRO and other plasma systems
Protect your investment. Choose genuine Hypertherm torches and consumables to keep your system running at peak performance. Incorporating the latest technologies and manufactured to the highest standards, Hypertherm consumables enhance cut quality, extend consumable life, and boost productivity.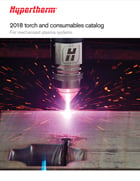 Browse our entire torch and consumable catalog
This catalog contains all of the torches and consumables for current and discontinued Hypertherm automated plasma systems.
Download catalog
Retrofit torches, specialty and consumable upgrades
For consumables and torches for current and legacy systems, click on your system below.
Specialty and consumable upgrades
Availability by system
Description
SilverPlus® electrodes

HPR130XD®
SilverPlus® is a proven electrode technology that dramatically extends consumable life significantly reducing operating costs.
HPR130®
HPR260XD®
HPR260®
HPR400XD®
HPR800XD®
HSD130®
HT2000®
MAX200®
HD3070®
HT4000®
HT4001®
HT4400®
Retrofit torches
Availability by system
Description
HyPerformance® Plasma XD system upgrade

HPR260®
XD technology upgrade kit provides better hole quality, thicker piercing capability and enhanced flexibility with bevel and robotic applications with superior cut quality and consistency, maximized productivity, minimized operating costs and unmatched reliability.
HPR130®
HyPro2000™ retrofit torch kit

HT2000®
HyPro2000 technology dramatically improves productivity with increased cut speeds of 50% and 75% longer life compared to the standard HT2000 and MAX200.
MAX200®
All torches and consumables may be purchased through your local distributor.