For metal workers who need to easily and reliably gouge and cut metal up to 38 mm (1-1/2″), Powermax® is a line of seven portable, professional-grade plasma systems that are designed for maximum productivity. Unlike other metal removal methods or competitive plasma brands, industry-leading Powermax systems allow customers to tackle any job by offering the most extensive manual and automated metal cutting and gouging capabilities.
Which plasma cutter is right for you?
Contact an expert
Want to discuss your needs and get more information on our solutions? Talk to one of our experts.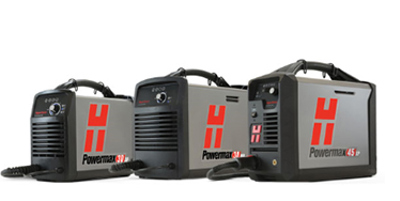 < 45 amp range systems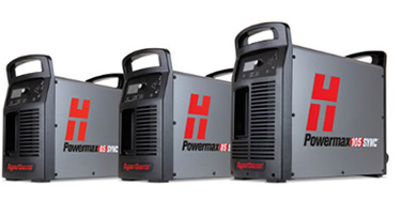 65–105 amp range systems New systems!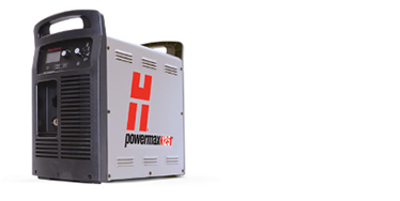 > 125 amp range systems
Want to discuss your needs and get more information on our solutions?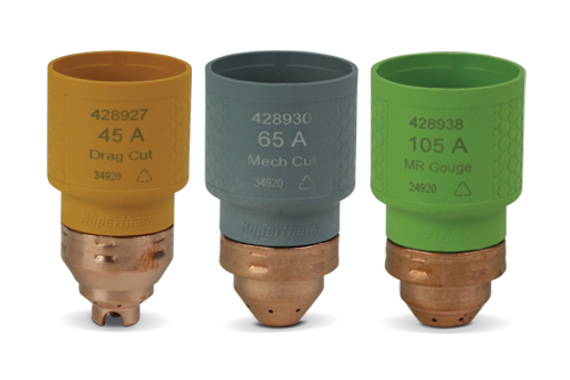 Introducing the Hypertherm cartridge consumable platform for Powermax systems
A revolutionary advancement in consumable design, the Hypertherm cartridge is a single-piece consumable that is optimized for performance and cut quality. See what systems and torches the cartridge is compatible for use with.
Benefits of Powermax
Cut metal quickly and cleanly
Plasma is created when gas is ionized by electrical energy. In Powermax systems, its intense heat (up to 22,000° C) is used to melt metal. Compressed air or nitrogen blows the molten metal away, leaving a clean edge that's ready to weld in most cases.
Cut or gouge any electrically conductive metal
Whether in a shop, factory, at home, or in the field, Powermax systems cut and gouge all metal types and forms. Most Powermax models are available with a hand or machine torch exactly tailored to your application.
Powermax advantages:
Most advanced, robust and reliable plasma systems in its class

State-of-the-art consumable and cartridge technology delivers faster speeds and better cut quality to help you get more done in less time

Automatic setup, simple controls and a stable plasma arc make Powermax systems easy to operate, even for beginners

Long consumable and cartridge life plus fast cut speeds lower your cutting and gouging costs
Powermax system requirements:
AC power source (fixed or generator)

Compressed air – shop air, portable air compressor, or bottled air (nitrogen is often used for stainless steel) – no explosive oxyfuel (excluding Powermax30 AIR system)

Safety equipment – including shaded glasses or face shield, gloves, protective clothing

Proper ventilation
Typical applications