With its revolutionary single-piece design, the new cartridge consumable for Powermax® systems will change the way you cut and gouge metal forever. Your consumable inventory management will be streamlined. Select your cartridge and with a simple twist onto the torch you're ready to go.
Benefits of Hypertherm cartridges
Easy to use
Reduce operator training and troubleshooting time with fewer consumable parts to manage and replace.
Cartridges are color coded by application and clearly laser marked for easy identification of process and amperage.
Upgrading to the Hypertherm cartridge platform is easy for Powermax45® XP/65/85/105 systems via a torch adapter for Duramax® torches.
Used cartridge consumables are 85% metal by weight and are easily recycled using normal scrapping processes.
Productivity gains
Cartridges are optimized by design to maximize performance and output for life gains when handheld cutting and optimal cut quality for mechanized cutting.
The cartridge provides useful utilization data when used in conjunction with SmartSYNC® torches and a Powermax SYNC® system. The data can be used to improve cutting operations and identify opportunities for operator training.
Specialty cartridges for gouging, FlushCut™ and FineCut® extends the capabilities of Powermax systems.
Torch compatibility
Fully compatible with all SmartSYNC torches, providing automated process set-up and data transfer to the system

Available cartridge reader accessory pairs with Powermax SYNC smartphone app to analyze performance data such as starts, transfers, and arc-on time

Limited functionality with Duramax and Duramax® Lock torches (found on Powermax45 XP/65/85/105)

Requires separate torch adapter (part number 428951)
Does not provide automated process set-up or data transfer
Learn more about the cartridge
Hypertherm cartridges part numbers
Hypertherm cartridges for Powermax systems are manufactured to uphold our high standards for quality and reliability. As part of the manufacturing process, we test-fire each cartridge to ensure proper assembly and function. As a result, there may be burn marks on the tip of the cartridge. This is normal and not a sign of damage.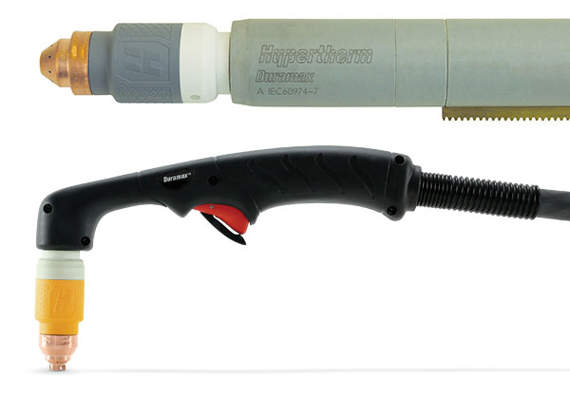 Upgrade your current Powermax system
Have a previous generation Powermax? No problem. Owners of our Powermax45 XP and Powermax65/85/105 can enjoy many of the benefits of our revolutionary cartridge consumable platform by simply adding a torch adapter to their current Duramax and Duramax Lock torch. The separate torch adapter will allow you to simplify consumable ordering, inventory, and installation by replacing your current 5-piece consumable stack-up with a Hypertherm cartridge. Learn more.