Powermax30 XP plasma cutter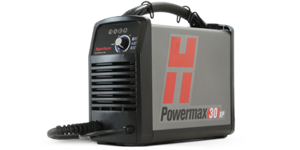 Register my product
< select a new product
How-to videos (8)
Showing 8 of 8 videos
Showing 63 of 8 videos
Operator and instruction manuals (3)
Showing 3 of 3 documents
Showing 33 of 3 documents
Service manuals (1)
Showing 1 of 1 documents
Showing 11 of 1 documents
Specifications
For full specifications, reference the manual.
Input voltages
120-240 V, 1-PH, 50/60 Hz
Input current @ 3.8 kW
120-240 V, 1-PH, 25-18.8 A
Output current
15-30 A
Rated output voltage
125 VDC
Duty cycle @ 40°C (104°F)
35%, 240 V
20%, 120 V
Open circuit voltage (OCV)
256 VDC
Dimensions with handles
356 mm (14.0") D; 168 mm (6.6") W; 305 mm (12.0") H
Weight w/ 4,5 m (15') torch
CSA: 9.7 kg (21.4 lbs)
CE, CCC: 9.5 kg (21 lbs)
Gas Supply
Clean, dry, oil-free air or nitrogen
Recommended gas inlet
flow rate / pressure
113.3 l/min (4 scfm) at 5.5 bar (80 psi)
Input power cable length
3 m (10')
Power supply type
Inverter - IGBT
Engine drive requirement
5.5 kW for full 30 A output
Certifications
CSA-certified for use in the Americas and Asia, except China
CE, C-Tick, CU/GOST, Ukr, and Serbian — for use in Europe, Australia, Belarus, Kazakhstan, Russia, Serbia, Ukraine, and other countries where accepted.
CCC for use in China.
Warranty
Power supplies have a 3-year warranty and torches a 1-year warranty.

Environmental stewardship is a core value of Hypertherm. Our Powermax products are engineered to meet and exceed global environmental regulations including the RoHS directive.
Field service bulletins (16)
Showing 16 of 16 documents
Showing 63 of 16 documents