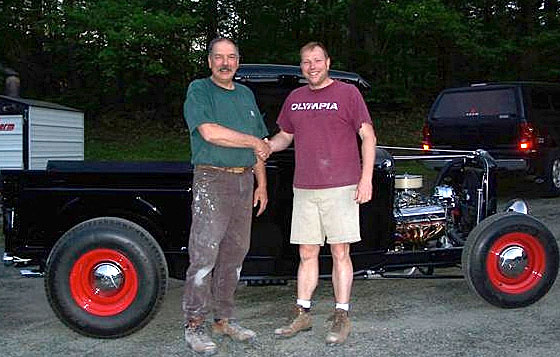 The finished product
Skip and Clayton Gould "Don't start without a plan. Building a hot rod is time consuming and it's meticulous work, but it is also a lot of fun." Clayton continued, "You need to be detail orientated and have a lot of patience - that's where Dad came in."
Skip then added, "Yes, you're a bit of a grunt monkey, but in my case, I enjoy the process of building because it is creative. The building is really as much fun, if not more fun than having the actual car."
Clearly, the resurrection of this beaten-up, rusted relic was the most fulfilling and enjoyable aspect of this experience for the Gould's. The Deuce Ford was Clayton's first car restoration project and Skip's fourth. When it was all said and done, the Gould's invested 2,500 hours over 2 ½ years, $13,000 in parts and lots of love.
Today, the hot rod is stored in Clayton's garage and is brought out only in favorable conditions - the season and weather have to be just right. When it does make it out of the garage, the hot rod has to be driven defensively since the sheet metal used to form the body is very thin and modern safety features, like bumpers and air bags, had not yet been invented when the Deuce was manufactured by Ford. Skip noted, "It's really just one step up from a motorcycle."
Clayton has enjoyed bringing the car to events hosted by the National Street Rod Association, Right Coast Car Association, and local cruise nights in Vermont and New Hampshire.