The XPR™ plasma family represents the most significant advancement in mechanized plasma cutting technology, ever. X-Definition® technology significantly enhances the capability of Hypertherm's HyDefinition® and HyPerformance® (HPR) processes to deliver significant gains in cut quality on mild steel and expand the cutting outcomes on a broad range of stainless steel and aluminum applications.
View XPR plasma cutting technology
---
Benefits of XPR plasma cutting systems
Industry-leading cut quality – X-Definition
Improves cut quality and consistency (cut angularity) through the life of the consumables
Delivers superior stainless steel and aluminum cut quality across the thickness ranges providing cleaner, sharper, and more consistent edge quality
Optimized productivity, lower operating costs
Dramatic improvement in consumable life on mild steel applications
Fast cutting speeds and consistent high-quality outcomes reduce labor required to process cutting with XPR
High quality argon marking uses the same cutting consumables
Engineered system optimization
XPR advanced arc response technology automatically intervenes to certain events that can lead to decreased consumable life or possible torch damage.
Automatic torch protection prevents catastrophic torch failures caused by overusing the electrode.
Automatic ramp-down error protects the electrode's life by automatically apply a controlled stop of the plasma process when the arc is over-stretched.
Gas console options for XPR

Type of metals being cut and expected quality outcomes will determine what gas console better fits your needs.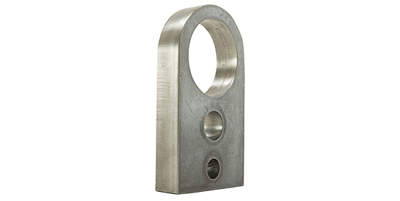 Core™
The core console is designed for customers that cut mostly mild steel. The core console offers full X-Definition capability on mild steel and entry-level capability on stainless steel and aluminum through the use of nitrogen as its plasma gas. The Core is capable of marking with nitrogen plasma gas on all materials.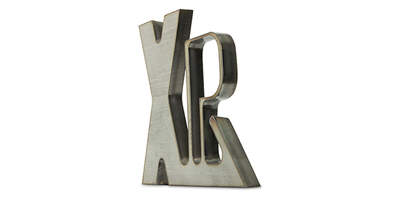 Vented Water Injection™ (VWI)
The VWI console is designed for customers whose volume is predominantly mild steel but who require improved capability for cutting stainless steel and aluminum, thicker piercing capability, or high-quality marking. The VWI console offers all the benefits of the Core console plus:
Patent pending VWI processes which utilize a water-injection shield yielding excellent cutting outcomes on stainless steel and aluminum
F5 fuel gas capability delivering superior results on thinner stainless steel compared to nitrogen cutting
Argon gas capability offers exceptional marking results and increased pierce thickness capacity when using argon-assist cut processes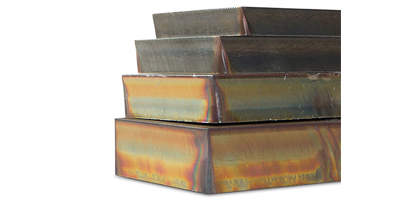 OptiMix™
The Optimix console is designed for customers that cut a high volume of stainless steel and aluminum and who require the highest cutting outcomes for these applications. The Optimix console offers all the benefits of the VWI console plus the ability to mix up to three discrete gases:
Reduces the cost of purchasing pre-mixed fuel gasses like H35
Offers the flexibility to adjust gas mixtures to optimize stainless steel and aluminum cutting outcomes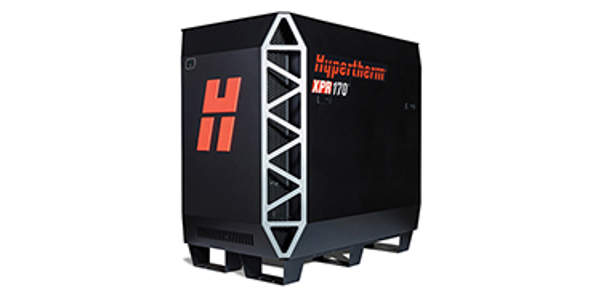 Maximum power output: 170 amps
Optimal cut quality thicknesses: 3 mm to 35 mm (1/8″ to 1-3/8″)
Cut speed for 20 mm (3/4″) at 170 A: 1,575 mm/min (65 in/min)
Pierce capacity: 40 mm (1-9/16″)
Severance capacity: 60 mm (2-3/8″)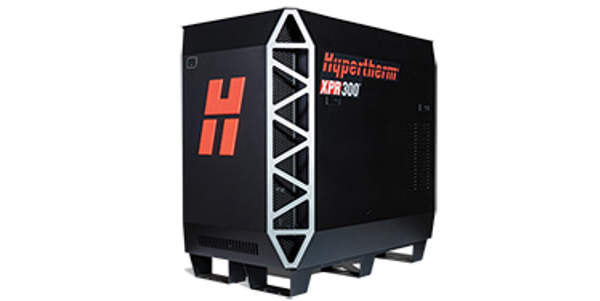 Maximum power output: 300 amps
Optimal cut quality thicknesses: 3 mm to 45 mm (1/8″ to 1-7/8″)
Cut speed for 20 mm (3/4″) at 300 A: 2,550 mm/min (105 in/min)
Pierce capacity: 50 mm (2″)
Severance capacity: 80 mm (3-1/8″)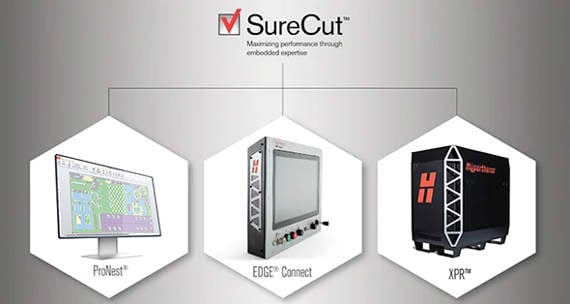 Maximize performance through embedded expertise with SureCut technology