Not your grandfather's plasma
By
Guest post by JoAnn Bortles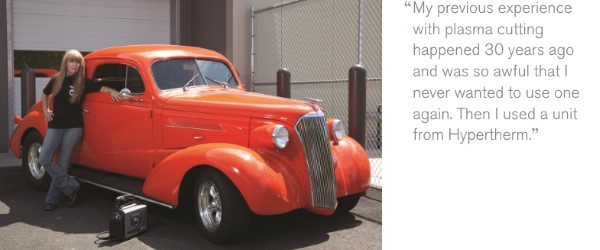 I like to think of myself as being open-minded. But the truth is old beliefs die-hard and past experiences can hinder a shop or a hobbyist from the advantages of improved technologies.
If someone had told me I'd be saying good things about plasma cutting systems, I would have thought they'd hit their head. My previous experience with plasma cutting happened in the early 1980s. It was so awful that I never wanted to use one again: it was loud, hot, sparks flew everywhere and the plasma-cut edges of the parts were so rough I'd have to deburr each part, adding untold hours to the job. I vowed then and there to never use plasma again. Not very open-minded.
Then at the SEMA Show, I happened to stop by the Hypertherm booth and was convinced to try out a Powermax. I picked up the torch, started cutting and instantly realized that plasma technology had vastly improved over the last few decades. It was an incredible experience seeing the plasma cleanly and quickly cut through the 1/8 in metal. And it was just as simple to use.
These new units are much more compact. Besides doing a much better job of cutting, the units are smaller, lighter, and more powerful, yet they use less amps and are therefore more efficient. The first hand-held machines were big and heavy, with most weighing up to 250 pounds because they required more power.
Today most air plasma systems like the Powermax, which I've since acquired and now use in my shop, are incredibly versatile and portable, with a broad set of application capabilities that make it a truly multi-purpose tool. It cuts or gouges faster, easier and better than any other product in its class.
In addition, today's systems use less power which make them much quieter and more energy efficient. Another bonus, consumable life. Instead of lasting for dozens of starts, today's consumables will give you hundreds of starts before needing to be replaced.
The price of today's Powermax systems are also more affordable than the older units used to be. For example, a Powermax45 XP (a system commonly used on cars,) costs less than $2,000. And there is a smaller, yet still powerful system, called the Powermax30 XP that you can own for even less. Actually one big advantage to using a Powermax30 XP is that it can run on regular 110 volt household power making it a great system for hobbyists. This advantage and its small size make it easy to bring wherever it's needed.
The versatility of using plasma to cut was a big factor for me. Plasma can cut any electrically conductive metal such as stainless steel, mild steel, aluminum and more. And I don't have to pre-heat it. Plasma is also great at cutting painted, dirty or even rusted metal — and who doesn't encounter that when working on cars and bikes? Plasma has a small heat affected zone (or HAZ) that keeps paint jobs looking great, and my Powermax45 XP comes with an expanded metal mode that keeps the pilot arc on the entire time, even if it encounters a hole in the metal. This is a big factor when cutting rusty panels. The Powermax45 XP quickly and cleanly slices through whatever I'm cutting, making the job go even faster.

Paint, dirt, and rust are no match for Powermax plasma, neither is aluminum or the many other types of metal often encountered on automotive projects.
I was also impressed by the system's ability to gouge. This made it real easy for me to remove old welds and shave off rivets and bolt heads. One of the biggest headaches in automotive restoration is spot weld removal. The Powermax45 XP speeds up this task, shaving hours off the average restoration process.
The Powermax45 XP even has a precision gouging nozzle and shield consumables that make it even easier to remove spot welds! Really, I cannot emphasis enough about the spot weld removal. It is without a doubt, reason enough for any restoration shop to own a Powermax45 XP.
Then there are the torches. Older units had torches that simply could not do what the new technology torches can do. Today's systems perfectly cut fine gauge sheet metal as well as the thick stuff. I've seen people use the Powermax45 XP, a relatively small 33 pound system, to cut 1½ in thick metal. Even though the system is not even rated for metal that thick, it slices right through.

Today's Powermax plasma systems come with more torch choices than ever before like this straight torch which is great for gouging and cutting in tight corners.
A Hypertherm plasma system is simple enough to set up and use. A 220 electrical plug (or regular 110 power for the Powermax30 XP) and a decent air compressor are all that's required. The cord for the torch is 20 feet long, plenty long enough so that you can reach most work areas in an average sized garage. Simply attach the ground clamp to your work surface and set the simple controls for the material being cut. In the event you don't have an air compressor in your garage, Hypertherm offers the Powermax30 AIR, which I've also used and am very impressed with. Again these newer systems are nothing like the systems of old.
I find plasma to be safer than other methods like carbon arc gouging or oxy since I don't have to worry about a separate fuel tank, but still you should take a few safety precautions. Make sure you are wearing welding gloves and a shade 5 or higher shield or safety glasses, than just pull the trigger and cut. A handy booklet comes with every machine, providing very thorough instructions on set up and cutting for most situations. Though I found the system very easy to use and felt I had mastered cutting pretty quickly, the Hypertherm website has a great education section complete with videos to explore as well.
So far my Powermax has been able to do everything I have asked of it. Cutting and trimming fenders, creating pieces for custom fabrication work, and using the gouge setting to slice away rusted bolt heads and nuts from frames and brackets. It has saved me hours of time, and using a plasma cutter to slice metal is more fun than using a cut off wheel or saw. Isn't having fun one of the reasons we work on projects?
JoAnn Bortles is a certified welder, fabricator, and award winning painter with more than 30 years experience working on motorcycles, specialty cars, hot rods, automotive parts and aircraft engine components. Her accomplishments include many Best of Show and First Place awards from prestigious shows around the globe and features in magazines like American Iron, Easyriders, Hot Rod, Street Rodder, and Southern Living, as well as MuscleCar TV and NBC's Today Show. In addition JoAnn is an accomplished author, having written more than a half dozen how-to books and many more articles.