Hypertherm joins automotive industry at SEMA 2014
By
A group of Hypertherm Associates are out in Las Vegas this week for the annual SEMA Show. SEMA, for those of you who don't know, stands for Specialty Equipment Market Association. It is a trade group that represents manufacturers, distributors, retailers, publishers, auto restorers, street-rod builders, race teams and ... well, basically anyone in the business of buying, selling, or using auto parts and accessories to make vehicles more unique, more convenient, faster, safer, etc. The SEMA Show is this group's largest show of the year drawing 100,000 people, if not more, every year.
This year, officially called SEMA 2014, Hypertherm is showing our Powermax30 XP and Powermax45 air plasma systems. A combination of portability, reliability, and cutting power make both of these systems great for automotive restoration. While the Powermax30 XP has the advantage of running on either 120 or 240 volt power, the Powermax45 has the upper hand because of its ability to be used in a mechanized fashion. Simply connect a mechanized torch and you can run the system on a track cutter, robot, or CNC table like the one shown in the photo below.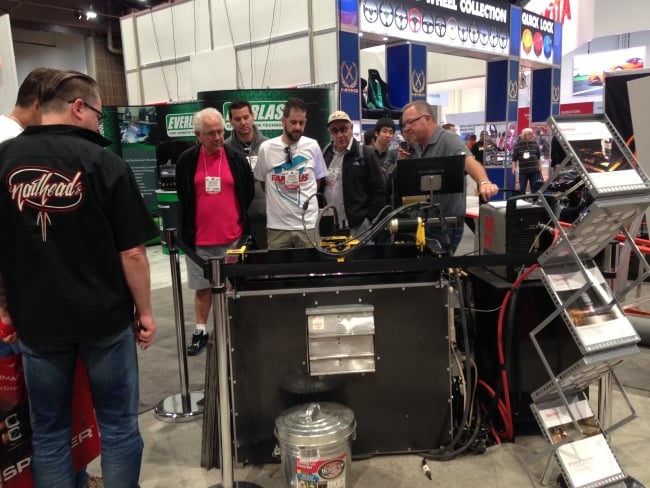 You can see there's quite the crowd around Hypertherm's Jim Colt as he demonstrates just what a Powermax plasma system, in this case a Powermax65, can do. Perhaps they're dreaming about all the custom parts they can create if they had a small table like this one in their shop.
In addition to our two Powermax systems, Hypertherm is also demonstrating our new HyAccess consumables. These consumables introduced late last month are 3 inches longer than standard consumables and are tapered. This makes it easier to cut in hard to reach or awkward places like inside a wheel well or near an engine. In the photo below, Jonathan Murphy, one of our marketing Associates is shown holding a torch with HyAccess consumables. If you look closely, you can see just how long and narrow these consumables really are.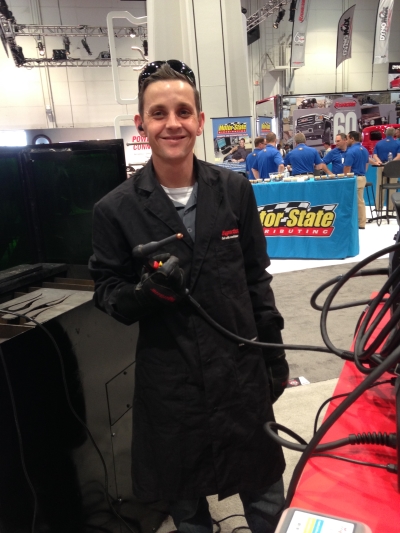 Finally, here's a shot of JoAnn Bortles. JoAnn, who was recently featured on the Motor City Masters program, uses a Hypertherm Powermax45 in her North Carolina shop. One of the things she is doing at SEMA 2014 is demonstrating spot weld removal. JoAnn estimates she's saved hundreds of hours of work by using the Powermax45 for spot weld removal rather than a oxy torch or grinder.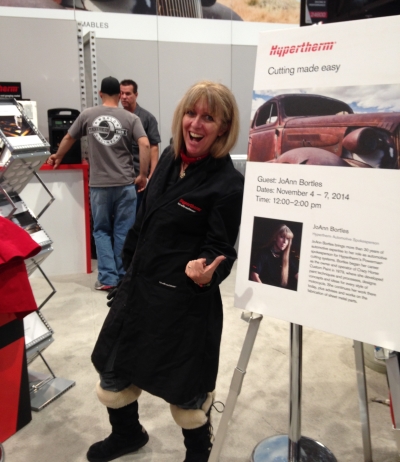 You can see she's clearly excited to see herself on that gigantic poster. What are your thoughts on SEMA? Have you ever been?