A 40-year-old dream comes true as an 80-year-old Willys coupe comes to life.
Hobby hot-rod builders discover plasma cutting
By
Some movies change us, but who would have guessed that a low-budget, made-for-TV movie shot in 15 days could captivate and hold the imagination of a young girl and her father for more than four decades? That's what happened when Beth Sachse and her father, Jon Wagner, watched "Hot Rod (Rebel of the Road)" as part of the ABC's Friday Night Movie series in the spring of 1979.
The movie's main character was good-guy Brian Edison, a drag racer who defeats local corruption while trying to qualify for the Hot Rod Nationals. Beth, only 13 years old when the movie aired, immediately fell in love with the primer-gray Willys coupe that Edison raced in the film. She told her dad then, "That's the car I want." Wagner took his daughter's interest seriously, but he wasn't under any pressure at that moment since she couldn't drive for a few more years.
Wagner already was an admirer of drag racing and an outright gearhead, so he knew the Willys coupe his daughter loved was synonymous with the "gasser" era of hot rod racing.
Called gassers to distinguish them from cars that burned nitromethane, these were steel-bodied cars from the 1930s and 1940s, resurrected for racing in the late 1950s and early 1960s. Souped up with powerful engines, raised suspensions for better handling, and stripped interiors to reduce weight, they were raced on drag strips (legally) and occasionally on public roads (illegally). The Willys coupes made from 1937 to 1942 often were the most popular gassers at drag strips until the National Hot Rod Association changed competition rules in the mid-1960s, leading racers to abandon this entire class of automobiles in backyards, fields, and barns. Well, that is, until the film.
From Cult Status to Dormancy to Cult Status
Now a cult classic with American car racing enthusiasts, "Hot Rod" is credited for refueling interest into restoring the Willys. This father-daughter duo got serious about their Willys project when Sachse was in her 20s. She reminisced to her dad, "I still want that car." By that time the value of the cars had significantly increased based on growing popularity.
"We couldn't afford to buy one, so we decided to buy parts and put it together ourselves in my home shop," Wagner said.
Sachse settled on rebuilding a 1940 coupe. Although it is easier to find replica fiberglass parts, Sachse wanted to use steel. A professional steel worker, her restoration motto echoes her career: "If it's not steel, it's not real."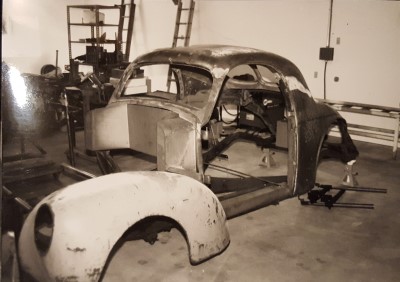 Finding genuine parts meant the project took longer to complete, and Wagner compared their search to solving a jigsaw puzzle. The pair collected parts through private sales and routinely attended swap-meets in their home state of Washington and further south in Oregon.
"Slowly or quickly, 30 years just passed us by," Sachse said. "Now, I'm 53 years old and we're assembling the car."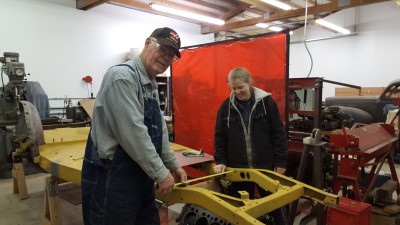 Discovering Plasma Cutting
Sachse and Wagner discovered Hypertherm when they purchased a new Powermax®. Ironically, even though both are highly skilled tradespeople, neither had used a plasma system before. Following a suggestion from her son, Sachse spoke with a local distributor, who commented on plasma's portability by teasing, "It is small enough to fit into your purse."
Wagner and Sachse learned more about plasma technology together and eventually selected a Powermax30 XP. They were "amazed at the speed and cleanliness of the cut" and described the system performance as "flawless."
"This is going to be a very valuable tool in our shop," Wagner said.
The duo prefers plasma to oxyacetylene for cutting metal. They've made brackets out of 16-gauge steel to reinforce the Willys' body joints and removed rusted sections for repairs.
"The FineCut consumables made for easier fit-up of the patch panel on the 18-gauge floor pan," Wagner said. They even reinforced the frame, making custom boxing plates out of 12-ga. metal, and currently are fitting in the engine and transmission with custom-fabricated mounts and crossmembers (as seen in photos below).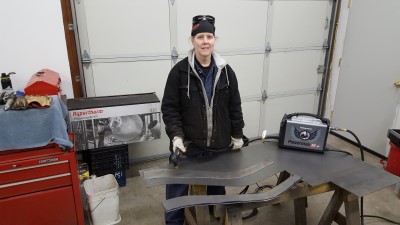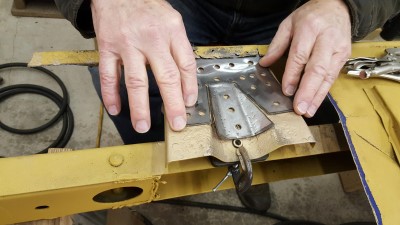 Project completion is anticipated for 2021. When the car is done, Wagner thinks that "Beth will drive the wheels off of it," but family time is the true reward of doing this project.
"I just feel lucky to get to spend time with my dad, learning how to build my dream car," Sachse said. "My dad is my friend, mentor, and my hero. He has always been there for me."
. . .
Interested in learning more about plasma for your own garage? Here are the top ten reasons every automotive professional and hobbyist needs a plasma cutting system in their shop.