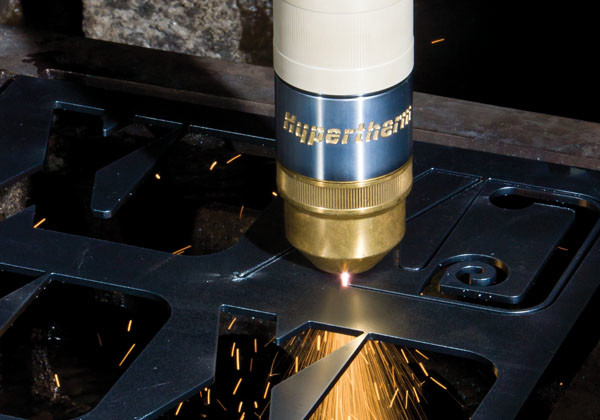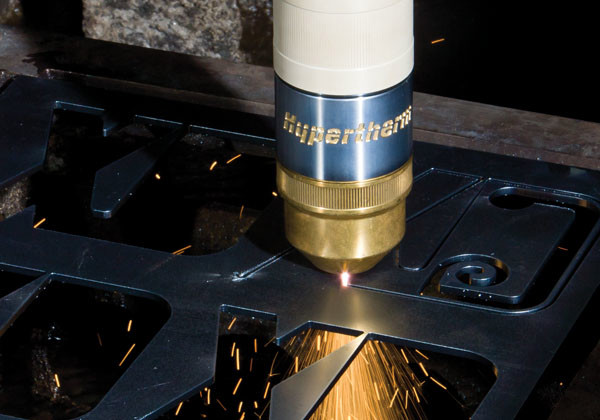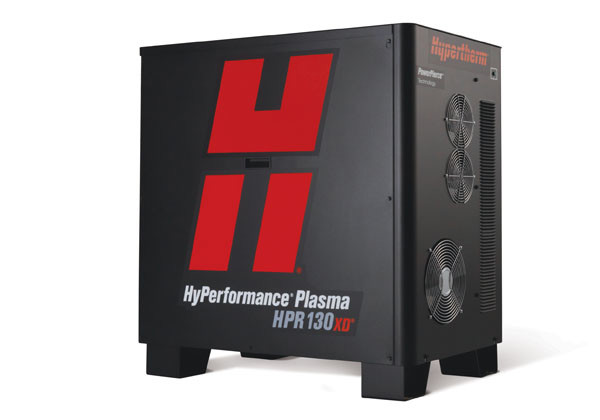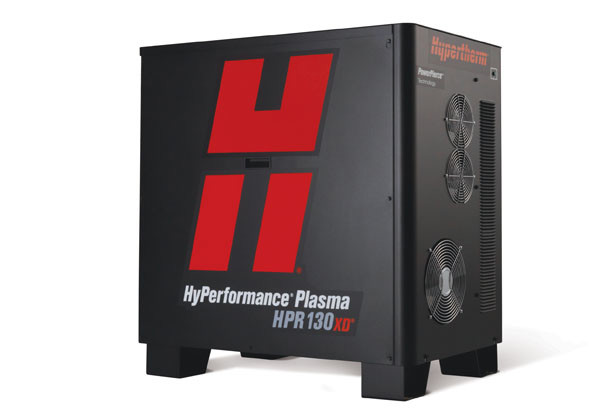 HyPerformance HPR130XD
The HyPerformance® HPR130XD plasma system has been designed and built for maximum performance and productivity in x-y, bevel and robotic cutting operations. The versatile 130-amp rated system combines fast cutting speeds, rapid process cycling, quick changeovers and high reliability, and gives you unmatched HyPerformance cut quality from very thin up to mid-range materials.
System information Torches and consumables Contact us
System information
Benefits
Superior cut quality and consistency
HyPerformance plasma cuts fine-feature parts with superior quality and consistency
HyDefinition® technology aligns and focuses the plasma arc for more powerful precision cutting up to 38 mm (1-1/2").
New HDi™ technology delivers HyDefinition cut quality on thin stainless, with extremely sharp top edge quality, shiny surface finish, and superior angularity with reduced angle variation
Patented True Hole™ technology (auto gas systems only) produces hole quality that is significantly better than anything previously achievable with plasma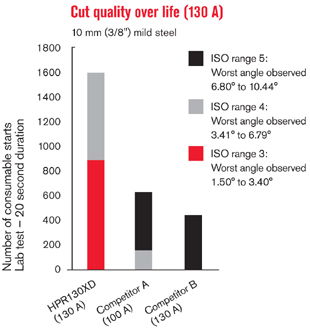 ---
Minimized operating cost
LongLife® technology significantly increases consumable life and enables consistent HyDefinition cut quality
Faster cut speeds let you produce more parts per hour; higher quality cutting virtually eliminates the cost of secondary operations
Patented PowerPierce® technology lets you pierce thicker than ever before and replace slower-cutting oxyfuel technology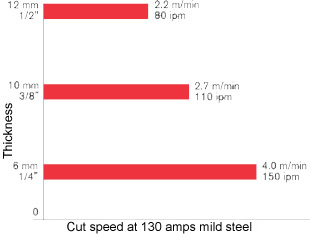 ---
"Do anything" versatility
Cuts, bevels, and marks carbon steel, stainless steel, aluminum, and other metals with HyDefinition precision
Modular system design allows easy power supply upgrades to increase system capabilities when requirements change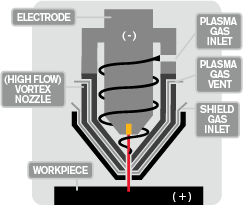 ---
Industry-leading reliability
Robust, simple system architecture with 50% fewer parts than most competitive systems
Best-in-class manufacturing and extensive testing ensure that every Hypertherm system meets the highest quality standards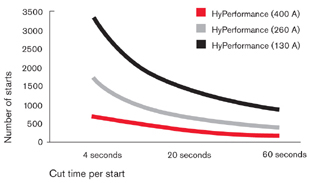 ---
Specifications
Mild steel cut capacity
Dross free
Production pierce
Maximum cutting capacity
16 mm (5/8")
32 mm (1-1/4")
38 mm (1-1/2")
Stainless steel cut capacity
Production pierce
Maximum cutting capacity
20 mm (3/4")
25 mm(1")
Aluminum cut capacity
Production pierce
Maximum cutting capacity
20 mm (3/4")
25 mm (1")
Speed
(Mild steel)
Book specification at highest output current
12 mm (1/2")
2200 mm/m (80 ipm)
Cut angle
ISO 9013 range*
2-4
Weldability
Ready to weld
Process gases
by material
(Plasma/shield)
Mild steel

Stainless steel



Aluminum
02/Air, 02/02, Ar/Air

H35/N2, N2/N2, H35-N2/N2, F5/N2,
Ar/Air, Ar/N2

H35/N2, Air/Air, H35-N2/N2, Ar/Air, Ar/N2
Process amps
Not all processes available
for all materials
30-130
* ISO 9013 is a standard that defines cut quality of thermally cut parts. The lower the range (range 1 is the lowest), the smaller the angle on the cut face. Cut angle in range 4 is better than in range 5.
Resources
HPR130XD Manual Gas Preventive Maintenance Program Instruction Manual (Revision 1)
Media gallery
Compilation of the HyPerformance® XD plasma systems

Watch a compilation of the HyPerformance® XD (HPRXD) plasma systems.

04:20

HPRXD HDi 6mm (.25 in) stainless

Watch an HPRXD® HDi cutting 6 mm (.25 in) stainless steel

01:33

HPRXD 3mm (10 GA) mild steel

Watch an HPRXD® cutting 3 mm (10 GA) mild steel

02:40

HPRXD 12mm (.5 in) mild steel

Watch an HPRXD® cutting 12 mm (.5 in) mild steel

00:32

HPRXD 12mm (.5 in) mild steel under water

Watch an HPRXD® cutting 12 mm (.5 in) mild steel under water

01:01

HPRXD 20mm (.75 in) mild steel

Watch an HPRXD® cutting 20 mm (.75 in) mild steel

02:15

HPRXD HDi 3mm (10 GA) stainless

Watch an HPRXD® HDi cutting 3 mm (10 GA) stainless steel

01:06

HPRXD samples 3 stainless

See 3 HPRXD stainless steel cut samples

00:26