Powermax SYNC series plasma cutters

Powermax SYNC® series, the next generation of Powermax65®/85/105 systems, is unlike any plasma you've seen before. Featuring built-in intelligence and a revolutionary single-piece cartridge consumable, Powermax SYNC simplifies system operation, streamlines consumable inventory, lowers operating costs, and maximizes performance.
Benefits of Powermax SYNC
Easy to use
Easy-to-identify single-piece cartridge consumables are color-coded by process to eliminate parts confusion and simplify consumable inventory management
New SmartSYNC® torches with the Hypertherm cartridge automatically set the correct amperage and operating mode, eliminating setup errors
Ability to tackle a wide range of jobs with easily interchangeable torch styles and application-specific cartridge consumables for various types of cutting and gouging
End-of-life detection lets you know when it is time to change your cartridge
Productivity gains
Simplified operation minimizes downtime, troubleshooting, waste, and training time.
Advanced cartridge consumable design provides up to twice the life for hand cutting, and improved quality over life in mechanized setups compared to standard consumables.
Each cartridge has been designed to optimize the cutting or gouging process for the best performance possible.
Innovative smart system
End-of-life detection lets the operator know when it's time to change the cartridge
Advanced torch communication for automated process setup
Time-saving controls directly on the torch allow you to adjust amperage and change the consumable without returning to the power supply
Access to cartridge data for performance tracking and analyzing usage patterns
Available cartridge reader accessory pairs with Powermax SYNC smartphone app to analyze performance data such as starts, transfers, and arc-on time
Industry-leading reliability
Engineered for rugged, industrial environments
SpringStart™ technology ensures consistent starting and a more reliable torch
---
Typical applications
Drag cutting
Bevel cutting
Fine feature cutting
Flush cutting
Extended reach cutting
Gouging
How customers are using our solutions
Salt Creek Fab, United States

"We're very impressed with the machine's cut quality and we love the cartridges. The cartridge life span far exceeds our older machine's consumables, and it takes seconds to replace. The cartridge saves the hassle of pulling the torch apart to diagnose which one of the consumable parts failed."

Rae Ripple, United States

"I've been using the new Powermax65 SYNC since last summer. Honestly, I can't even put into words how freaking rad this thing is. Since the day I got it, I've been dying to use it on a car. Granted the 45XP is great but this, this is going to completely change the industry. One cartridge. No slag, beautiful lines, even fine ones. So if you're on the fence about getting one, let this be your sign to just go for it!"

LaForge 2.0, France

"With this machine you can cut anywhere you go...you just need the right consumable in your pocket. You can just do your job!"

Best Fender Products, United States

"Our operators just love the [Powermax] SYNC. It's a much simpler process changing the consumables and we're seeing better life."

Redrock Machinery Ltd., Northern Ireland

"Everybody [is] impressed so far. We are in week five now with the original cartridge still being used. We recommend the [Powermax] SYNC machines."
---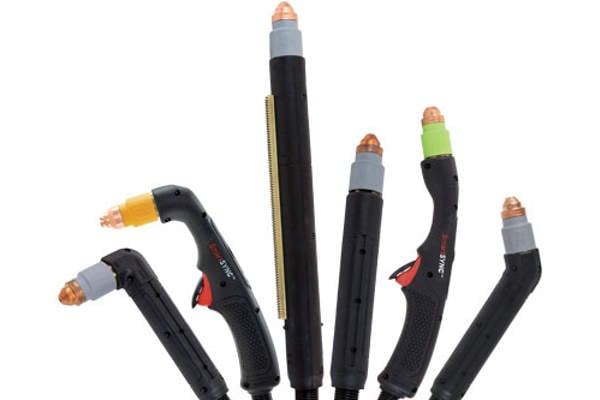 With simple cartridge installation, automated set-up, and RFID technology, Hypertherm's SmartSYNC torches are the smart choice when plasma cutting and gouging. Controls right on the handheld torch make it easy to adjust your amperage and change consumables without returning the power supply.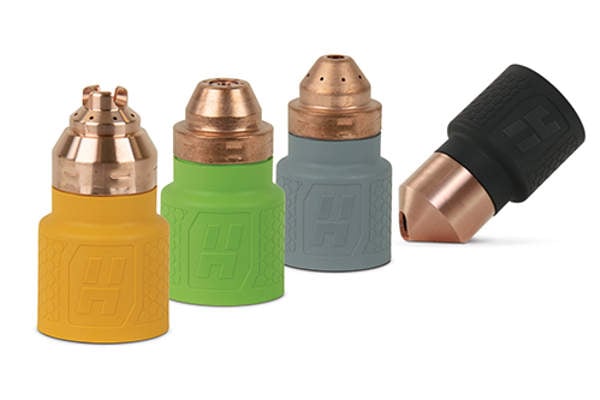 Hypertherm's new cartridge consumable completely eliminates the traditional five-piece consumable stack-up with a single color-coded piece that you simply twist onto your torch. The result is a simplified consumable inventory and maximized performance.