BAE Systems discovers the versatility of plasma
By
From dismantling an old ship to overhauling Navy and other vessels, plasma is a versatile tool to have as BAE Systems and hundreds of others can attest.

BAE is a global defense and security company that delivers a full range of products and services to air, land, and naval forces, as well as clients in private industry. The company has offices worldwide, with each location offering customers slightly different products and services. Its San Diego, California location for example, has a marine fabrication shop that focuses on repair services for navy ships and commercial vessels.

BAE Systems routinely retrofits structural assemblies on ships. These kinds of repairs are necessary because metal ships rust as they sustain prolonged exposure to saltwater, and rusted panels have to be cut out and replaced. BAE Systems was using another brand of plasma system in hand-held operations to accomplish this job. One of their challenges was that the plasma arc would 'cut out' any time it ran over a rusted hole. In addition to this slowing the job down, the team found that having to relight the torch caused them to prematurely burn through their consumables.

As a result of this, BAE Systems' fabrication shop employees were open to considering a new plasma system. They first learned about Hypertherm's Powermax85 from their local distributor sales representative who offered to give them a Powermax85 demonstration during one of the shipyard's routine sales call.

The Powermax85 can easily cut and gouge metal, but during the demonstration, BAE Systems was most interested by the system's expanded metal mode. Though developed to cut expanded metal; it is perfect for cutting rusted metal as well. Rusted metal and expanded metal are essentially the same because rust can create holes in metal. Other plasma systems can lose their cutting arc when they come in contact with holes, but the Powermax85's expanded metal mode keeps the torch cutting continuously, even when the plasma arc hits open air.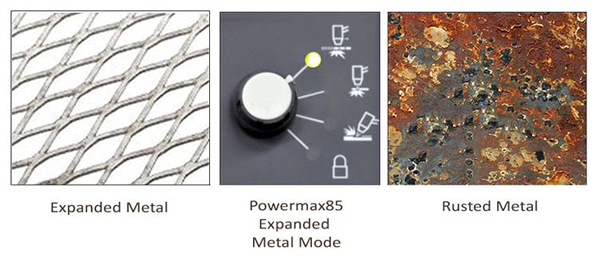 Recently, BAE Systems purchased five Powermax85s and the manager of the Welding Maintenance Department says the systems are "running very well, better than our other systems ever did."

The BAE Systems' shop foreman stated, "There is no comparison, the Hypertherm is better in every aspect: cut quality, scarfing quality, thickness of material cut, and consumable life. We have cut down dramatically on our consumable usage. With the older systems, we were changing our consumables two to three times a day. Now, with the Powermax85, we change out consumables once a week, and this results in a considerable savings for our company. Our productivity level has also increased by 50 percent."

The Expanded Metal Mode comes standard on the Powermax85 and most other Powermax systems.