A success story: South Dakota creates a skilled workforce and everyone is benefiting.
By
Bulk Transporter magazine shared an article over the summer that highlighted a successful partnership between two longtime Hypertherm customers. Trail King, a trailer manufacturer in Mitchell, South Dakota, is working with Mitchell Technical Institute (MTI) to develop the talent they need. What's so great about this partnership is the students come out of school debt-free, have work experience on their resume, and a guaranteed job after graduation. Really, what could be better than that!
Here's how it works. MTI hosts a program they call Double Edge. The school leverages the Build Dakota scholarship fund and their relationships with industry to ensure MTI students have the best learning experience possible. Businesses get to choose the students that they want to sponsor, and the school does the scholarship paperwork. In exchange for paid tuition, the student agrees to work for the sponsoring company for a minimum number of hours per week, while in school, and for at least three years after graduation.
Travis Peterson, MTI's Welding Program Director, recognizes the contributions that Trail King and other businesses make for his students and how these partnerships "enrich the educational experience." Trail King benefits in many ways too: local recruitment, building a talent pipeline, and having committed workers. Plus, it's a cost-effective way to provide advanced training for employees. For the students, it means something else. They're not as stressed about the future and that helps students get more out of school.
Participating students have great things to say. Alex Schoenenberger, relocated from Neligh, NE specifically for the Double Edge program and he loves learning about automation and robotic programming. He's happy he made the move, stating, "They're training me well and giving me everything that I needed to be successful. I can also have nice things at home because I'm working and not going into debt."
Daniel Reisenauer, came from Sioux Falls, SD and is learning about fabrication, manufacturing, and machining technologies along with his classmates. He appreciates the piece-of-mind the program gives him, saying, "I know that I have a solid full-time job waiting for me. I'm guaranteed employment."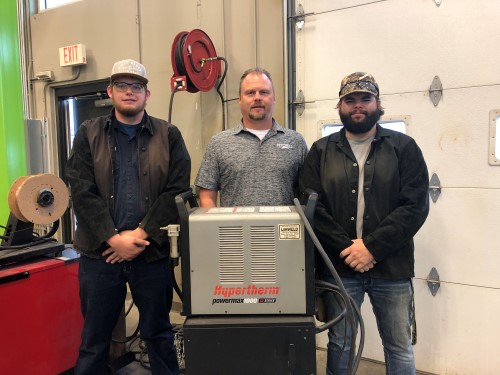 From left to right, Alex Schonenberger, Instructor Travis Peterson and Daniel Reisenauer take a momentary break from a busy day in their welding lab. Both students work at Trail King while attending MTI full-time.
If you were inspired by this program, read about another inspiring student who put himself through school with the help of his Powermax45 XP.