Work safer and faster with the Duramax Hyamp Long torch
Posted on
06/20/2017
Posted by
The Hypertherm Duramax® Hyamp™ Long torch and compatible Powermax® air plasma systems are the perfect combination to make your business safer, more productive, and more profitable.
In addition to extended durability for heavy-duty applications like scrapping, plate skeleton removal from cutting tables, and infrastructure repair or reconstruction, Duramax Hyamp Long torches improve workplace safety. Available in 0.6m (2'), 1.2m (4') and 1.8m (6') configurations, their extra reach lets operators keep a safe distance from the plasma arc and workpiece while cutting.
For businesses currently using oxyfuel, there's an additional safety benefit: Switching to plasma makes the workplace safer by eliminating potentially hazardous, hard-to-handle gas cylinders.
Faster cutting improves productivity and lowers costs
With cut speeds on mild steel up to three times faster than oxyfuel, you'll get more done, and get jobs done quicker. And unlike oxyacetylene, the Powermax system can also cut stainless steel and aluminum, so you can take on a wider variety of jobs.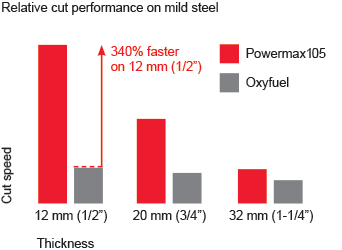 On 12 mm (1/2") mild steel, the Duramax Hyamp Long torch cuts more than 3 times faster than oxyacetylene—dramatically increasing productivity and lowering gas costs.
Skeleton removal
One of the most difficult aspects of mechanized cutting jobs is dealing with the skeleton after removing cut parts. Skeletons can be heavy and unwieldy to handle, and they can flex unpredictably. In addition, the sharp edges of thin gauge material can cut, even through thick gloves. Cutting skeletons into smaller pieces makes them easier to handle and reduces the chance of accidents.
The Hypertherm Powermax plasma system that are compatible with Duramax Hyamp torches make clean up after mechanized cutting safer and faster—resulting in a more efficient, more profitable operation.
For starters, the extended reach of the Duramax Hyamp Long torch lets the operator stand on the floor next to the table in a natural position—not standing or kneeling on the table itself. This prevents ergonomic issues and eliminates the risk of falling.
There's also productivity to consider. Quicker unloading of the skeleton means more CNC cutting time and increased production, growing revenues and profits for the business.
Metal scrapping operations
Scrapping metal is a tough and sometimes hazardous job. The Duramax Hyamp Long torch makes it safer by allowing the operator to stand further away from the cut, minimizing the danger of getting hit by a falling piece of scrap.
Metal production
The Duramax Hyamp long torch is ideal for cutting out samples of rolled steel without slowing down the line. It's also an excellent solution for cutting up scrap from aluminum production. In addition to the increased productivity that comes with faster cut speeds, the length of the torch keeps the operator at a safe distance from the hot metal and the plasma arc.
Duramax Hyamp Long torch configurations


Torch length, head angle
0,6 m (2'), 45°
0,6 m (2'), 90°
1,2 m (4'), 45°
1,2 m (4'), 90°
1,8 m (6'), 90°
Torch lead length
7,6 m (25')
059562
059563
059567
059568
059623
15,2 m (50')
059579
059580
059581
059582
059624
45 m (150')*
059667
059668
* 150 foot torches are only compatible with Powermax125 built after November 14, 2017 (serial number 125-007944 or higher) or that have had the DSP board replaced with a board built after this date.
Compatible with the following systems: Powermax45® XP, Powermax65®, Powermax85®, Powermax105®, and Powermax125®.
Posted on
06/20/2017
Posted by