SilverPlus electrodes
SilverPlus® electrodes incorporate a hafnium/silver interface at the point of electrical transfer. The hafnium/silver extracts more heat and has a stronger bond than hafnium/copper.
The result: dramatically longer electrode and nozzle life – increasing productivity and lowering operating costs by reducing the number of consumable sets used and changeouts.
System information
Benefits
SilverPlus lasts over 2 times longer than standard electrodes

Our testing process
We used rigorous life tests to benchmark SilverPlus® electrodes against our standard electrodes. Our 20/20 test involves piercing metal and cutting for 20 seconds with 20% programmed ramp down errors. This means that 20% of the time, we purposely committed errors while cutting, such as running off the plate.
This test protocol is intended to simulate the actual cutting environment. We ran tests using Hypertherm's standard HPR oxygen cutting parameters. These procedures were repeated until the electrode no longer functioned.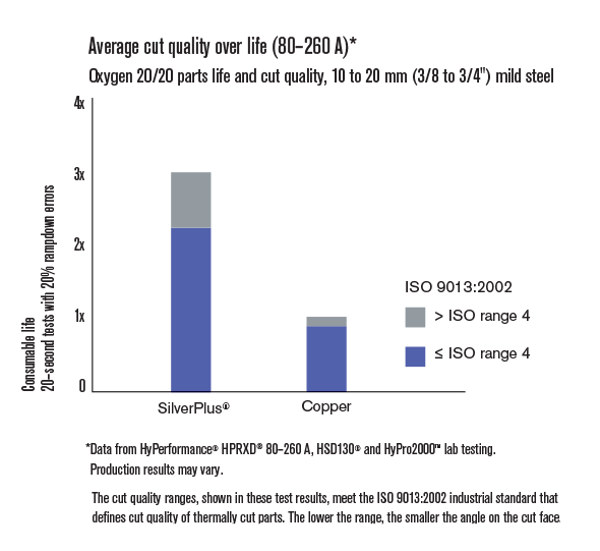 ---
Friction-welded silver/copper joint
Unlike conventional copper/silver electrodes, SilverPlus electrodes feature a robust solid-state copper/silver weld joint. This bond is near forge quality, ensuring the best possible electrical and thermal conductivity. This not only ensures the consistency of every electrode; it maximizes service life.
---
Enhanced reliability
Because the silver and copper are welded prior to electrode machining, the hafnium is guaranteed to be perfectly centered in the electrode, enhancing both reliability and cutting performance.
---
Twice the life of all-copper electrodes
The unique design of SilverPlus electrodes minimizes debris build up on the inside wall of the nozzle, reducing damage to the nozzle orifice. As a result, SilverPlus technology doubles the life of both the electrode and the nozzle.
Like all Hypertherm consumables, SilverPlus electrodes are designed with critical-to-function tolerances and manufactured with the highest levels of precision and repeatability – delivering highly reliable, consistent performance in the most demanding cutting operations.
---
Specifications
How the technology works
SilverPlus® electrodes utilize a hafnium/silver interface at the point of electrical transfer. The hafnium/silver interface extracts more heat and has a stronger bond, enabling a deeper pit depth in the hafnium. This means that you will get double the life compared to standard copper electrodes.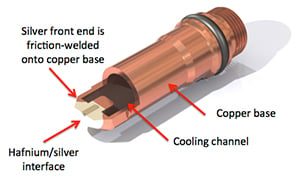 Buying information
Visit our where to buy page to find a potential partner, or contact Hypertherm directly if you need further assistance.
| System | Amperage | Part number |
| --- | --- | --- |
| HPR® / HPRXD® | 80 A | 420566 |
| HPR® / HPRXD® | 130 A | 220665 |
| HPR® / HPRXD® | 200 A | 220666 |
| HPR® / HPRXD® | 260 A | 220668 |
| HPR400XD® | 400 A | 420530 |
| HSD130® | 130 A | 420185 |
| HT2000® | 200 A | 220084 |
| HT2000® with HyPro2000™ torch | 130 A | 420185 |
| HT2000® with HyPro2000™ torch | 200 A | 220925 |
| MAX200® | 200 A | 220083 |
| HT4400® | 200-400 A | 220412 |
| HD3070® | 100 A | 220408 |
| HT4001® | 260 A | 220397 |
| HT4000® | 400 A | 220397 |
| HT400® | 400 A | 220397 |
Resources
SilverPlus electrode technology for mechanized plasma cutting systems