Learn how we can help you recycle Hypertherm cartridges for Powermax® systems, while providing you with valuable utilization analysis on your used consumables.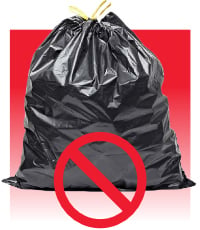 DO NOT
Throw cartridges and the valuable information they contain into the trash.
This will bring pollution to landfills and waterways, rather than bring value to your operation.
---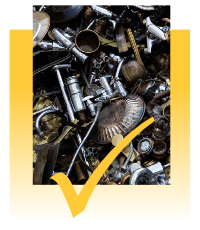 AT THE VERY LEAST
Recycle on your own
Continue to follow your current metal scrapping/recycle process for cartridges until Hypertherm's "Return to Recycle" program is extended outside of the United States.

Collect used cartridges in your normal copper/brass recycling container.

Remember, cartridge consumables for Powermax SYNC® systems are 65% copper and 20% brass by weight, and classified as "Drink, Droid, or Drove" material. Be sure to discuss this with your scrap vendor to ensure you are fairly reimbursed!
---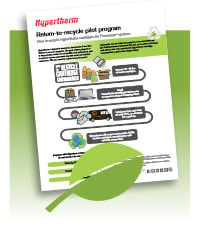 BEST OF ALL
Recycle 100% with Hypertherm's ReturnToRecycle program – currently testing in United States only
This program keeps waste out of landfills and waterways, and provides you with optional usage reports on your cartridge consumables.
Box up 20-40 lbs. (approx. 100-200 cartridges) of used cartridge consumables.

Fill out the form below to request your prepaid shipping label.

Label will be emailed within 1 business day,

Label your box and drop off with UPS, or call them for a pickup.

Hypertherm will analyze and recycle 100% of your cartridges, and provide you with valuable usage data if you indicate that you would like a report for your cartridges that have data written to them.
Request cartridge recycling label
Note: This program is currently only available to customers in the United States.