Proper use of the plasma consumable tool will help you avoid performance issues
By
Last year we did a Tech Tip in Hypertherm's SHAPING eMagazine on the importance of using a consumable tool when removing consumables in your XPR, HPRXD, HPR and MAXPRO plasma cutting systems. This tool is so critical, we include one with every single system that leaves our facility. In addition to removing consumables, the tool is also used to install the electrode on the above systems, including our XPR plasma systems.
Although the new QuickLock electrode used on those systems is quick and easy to install (and feels like it should be tool-less), you still need the consumable tightening tool to ensure that electrode is secure. When an XPR electrode is tightened by hand, it is too loose and can't make proper electrical contact. An arcing current will damage your consumables and maybe even your torch body, the receptacle, and/or torch connect console. Don't tighten XPR QuickLock electrodes by hand; use the tightening tool.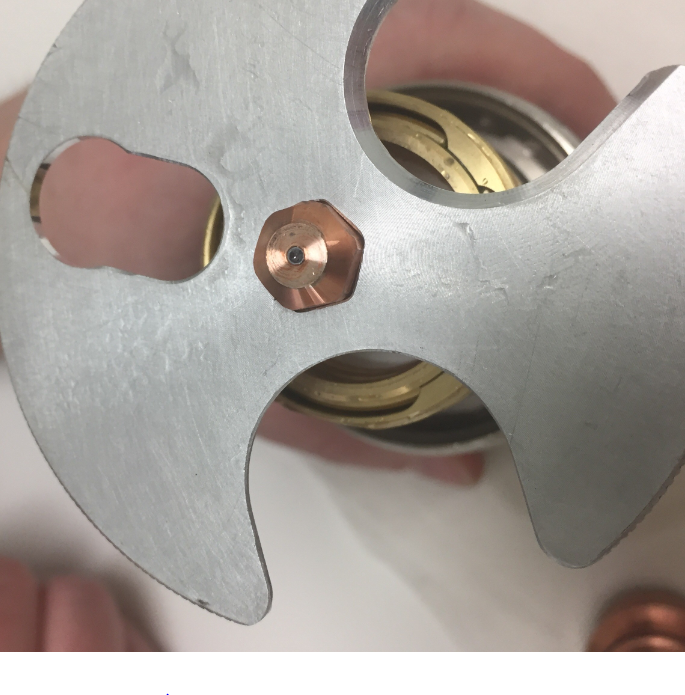 You need to use the hexagonal-shaped socket in the middle of this tool to completely tighten the electrode. This center hollow fits perfectly over the electrode and it is used like a wrench, to tighten and properly seat the electrode in place. Please refer to this video and article for more information on consumable installation and removal using this tool:
Video: Hypertherm how to: Hypertherm Technical Service Engineer Bob Chorney demonstrates proper use of our consumable removal tool.
Article: There is a right way to use the consumable removal tool that comes with your XPR, HPRXD, HPR and MAXPRO power supplies.
If you have misplaced your XPR tightening tool, you can order a new one from any authorized Hypertherm partner. Ask for Hypertherm part number: 104119.