Hard-working country boy catches a break as BIG as his hat.
Owner couldn't have imagined what appearing on HGTV's Fixer Upper would do for his business.
By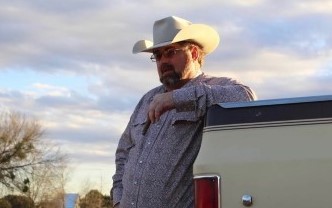 The BIG break
Jimmy Don Holmes says he's just a hard-working country boy enjoying success after decades of running his own business, but acknowledges, "Joanna made me famous." The "Joanna" Jimmy Don is talking about is Joanna Gaines from the popular home improvement TV show Fixer Upper from the Home & Garden Television (HGTV) network. With more than 95 million television channel subscribers, this style station is the third most-watched cable channel in the United States.
As the stars of Fixer Upper, Joanna and her husband Chip, delight homeowners and audiences with dramatic renovations and stunning farmhouse designs. The Waco, Texas couple values using local talent on all their projects. When Joanna needed a metal fabricator for ranch gates and rustic wall art, it was a friend's recommendation that led her to Jimmy Don and his business JDH Iron Designs in nearby Valley Mills, Texas.
Before Fixer Upper
Already in its twentieth year of operation, JDH Iron Designs is going strong, but it was not always that way. Jimmy Don explains, "In the beginning, being a business owner was hard. I had to learn how to manage myself and my time. I was busy and I can honestly say for the first 15 years, I worked most days and long into the night."
JDH Iron Designs started out with a hand-me-down 4' x 4' PlasmaCAM table with Powermax600® plasma system. Jimmy Don was quick to note that he didn't have the luxury of digital height control back then. He mastered his table through trial and error, and often slept in the shop to ensure jobs were completed on-time. He'd dose-off while the machine was running, and then jolt awake as soon as the plasma arc stopped. This level of dedication kept him strong during difficult times and ultimately propelled his business toward success.
"We're all born with entrepreneurial spirits. It takes heart and drive. You can't buy heart or teach drive, you just got to have it." Jimmy Don has heart and drive in spades, but he couldn't have imagined what the HGTV show would do for JDH Iron Designs. Joanna and Chip, known for featuring the companies they partner with on their show, included JDH Iron Designs on a 2015 Fixer Upper episode. From that airing, the business just took off.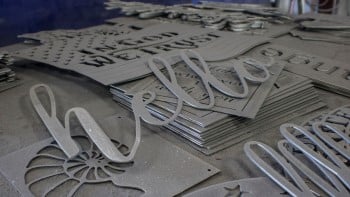 JDH Iron Designs' Shop
To keep up with the mounting demand and to maintain his commitment to product quality, Jimmy Don added 26 employees and a total of seven light industrial plasma tables. He now owns nine Hypertherm plasma systems: eight Powermax65®s and one Powermax45®. Each of his seven PlasmaCAM tables (six 4' x 4' and one 5' x 10') are outfitted with a Powermax65 and digital height control.
Jimmy Don's impressed with the duty cycle of the Powermax65, which is designed to maximize productivity, stating, "I've pushed my machines so hard. I've run them all night long with no trouble." Jimmy Don is still involved in all aspects of the company, but now has four machine operators to help him out, and his son Jake, is leading the design team.
Together, the team is making 15,000 signs a month, nearly 450 of which are custom pieces. "Bible verses are some of the biggest sellers and Joshua 24:15 may be our most popular: As for me and my house, we will serve the Lord," but JDH Iron Designs also makes custom military wall badges, business signs, holiday decorations, lettering, and ranch entrance gates. Jimmy Don says, "I mainly cut 14-gauge to 1/4 inch plate and I like using the Powermax65 with the FineCut® consumables."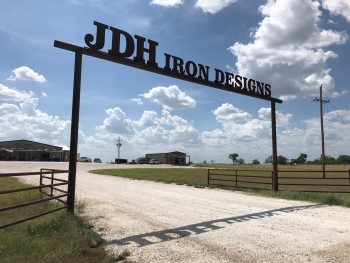 The fruits of labor
These days, Jimmy Don feels spoiled that he doesn't have to work around the clock. He says he's become quite a celebrity around Waco, where he runs a store near Magnolia Market, the shopping complex owned by Joanna and Chip. Jimmy Don estimates that around 400 people stop by every day and if he's there, he ends-up taking a selfie or photograph with nearly all of them. He notes, "I know they love it, but I'm gonna tell you I love it even more than they do."
SHAPING eMagazine
Did you like this story about Jimmy Don and JDH Iron Designs? You can read more stories like it by subscribing to Hypertherm's SHAPING eMagazine. It only takes an email address to sign-up and then you'll automatically receive the next quarterly issue when it's published.