Four tough jobs made easier with Duramax Hyamp Long torch
By
We all know that processing metal can be a hard job. It's hot, dirty, and then there are the physical demands it can put on your body. Metal is heavy, and depending on the size of the plate, difficult to move. It becomes even harder to maneuver when the metal is welded into a sub-assembly or final product. Then to further complicate matters, there are staff shortages, safety concerns, cost constraints, and deadlines to meet.
What if there was a better way to do some jobs? Hypertherm created the
Duramax Hyamp Long torch
with that in mind. Jing Wu, Hypertherm's lead engineer on this project explains, "We want to help our customers and keep them safe." Wu and his team based the new handheld torch designs on what operators told them, and what they themselves observed in shops, yards, and plants. It was clear that "extended reach" is beneficial for several reasons, and by offering longer torch-body lengths, existing
Powermax
owners could expand their range of applications.
Four jobs improved
Here are the four jobs that immediately improved by adding the Duramax Hyamp Long torch:

1. Skeleton removal
If you're using oxyacetylene to cut and remove skeletons from your table bed, it's slowing down your production line. Undoubtedly, plasma is faster than oxyfuel but by switching to the Duramax Hyamp Long torch, you can do the same job in a third to a quarter of the time. Existing long torch customers report skeleton removal from heavy industrial CNC beds is so fast, that jobs previously taking an hour, now can be finished in less than 15 to 20 minutes. The savings add-up fast.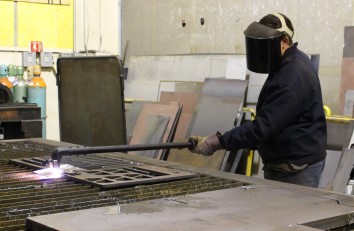 2. Scrapping
Every scrapper will benefit from having a long torch in their yard. Not only can plasma cut steel, stainless, and aluminum, it cuts exotic metals, like copper and brass, and alloys too. The portability of Powermax plasma systems makes it possible to demolish large-scale depreciated machinery out in the yard, allowing for larger, more lucrative trades with mills. The Duramax Hyamp Long torch is also better than a shear at making long cuts. Plus, it frees-up shears to cut the smaller pieces into dimensions required by steel mills, thus making the shear more productive as well.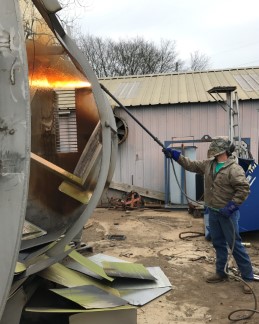 3. Structural demolition
The structural steel companies tearing down buildings and other facilities, like decommissioned nuclear plants or sports stadiums, use multiple long torches to speed-up the job. Completing the job faster saves on labor costs, but it helps them earn their contractual performance incentives too.
4. Processing coils, test coupons, and castings
Mills manufacturing steel and other metals are hot places. Furnaces heat, melt, and liquify raw ore and recycled scrap metal to form new rolled and cast metal products. As noted above, the long torch creates more distance and allows operators to stand further away from the radiant heat.
Additional benefits for all four jobs
Time is money and this type of operational savings is seen immediately, but less obvious are the savings created by longer consumable life. Hypertherm consumables are designed to optimize cut quality but cuts generally don't need to be square for these applications. Billy Cherry from Hokes Bluff Welding & Fab said, "I find that the consumables last much longer than what you say they do. I went on your website to check and we are getting between 70% to 80% more life."
The Duramax Hyamp Long torch is safer to use. It's ergonomic, allowing operators to work from comfortable positions. The length of the torch body and the angle of the cutting head lets operators stand upright, while still gaining the accessibility they need. Operators avoid back pain that happens from having to bend over repeatedly to ignite the flame torch with a striker and operators can stand beside CNC tables, rather than on-top of the cutting bed.
Available torch designs
Compatible with the Powermax45 XP, Powermax65, Powermax85, Powermax105, and the Powermax125, the Duramax Hyamp Long torch comes in three lengths (2, 4, and 6 feet), with two cutting head angles (45 and 90 degrees), and three lead lengths (25, 50, and 150 feet). The 150-foot leads are avaliable for Powermax125s built after November 14, 2017 (starts with serial number 125-007944 and asends: 125-007945, 125-007946, etc.) or had the digital signal processing (DSP) board replaced with a board built after that date.
The specific part numbers and torch descriptions are listed below:
| | | |
| --- | --- | --- |
| Part # | | Duramax Hyamp long torch handheld descriptions |
| 059562 | | 45° torch, 2' extension, 25' lead |
| 059579 | | 45° torch, 2' extension, 50' lead |
| 059563 | | 90° torch, 2' extension, 25' lead |
| 059580 | | 90° torch, 2' extension, 50' lead |
| 059567 | | 45° torch, 4' extension, 25' lead |
| 059581 | | 45° torch, 4' extension, 50' lead |
| 059568 | | 90° torch, 4' extension, 25' lead |
| 059582 | | 90° torch, 4' extension, 50' lead |
| 059623 | | 90° torch, 6' extension, 25' lead |
| 059624 | | 90° torch, 6' extension, 50' lead |
| 059667 | | 45° torch, 4' extension, 150' lead, only Powermax125 |
| 059668 | | 90° torch, 4' extension, 150' lead, only Powermax125 |
Assistance
For more information or help with a quote, contact us.