Engineering the Powermax SYNC
By
Jesse Roberts, one of the engineers who led development of Hypertherm's Powermax SYNC® series of plasma systems, is sharing his thoughts on what it was like to develop a plasma system with built-in intelligence and a single-piece cartridge consumable. Here's what he has to say.
---
Q: How long did it take your team to develop the Powermax SYNC and how many people were involved?
A: Development started about 10 years ago. At first it was a small team but it grew larger as the product matured and became a reality. As we got closer to officially introducing the product to the market, I'd say we had more than 100 people working on it.
---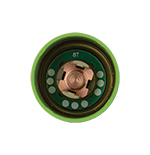 Q: What was the greatest challenge your team faced when working on Powermax SYNC?
A: Probably the most difficult challenge was finding a way to cost effectively manufacture a single piece cartridge using currently available manufacturing processes and resources.
---
Q: What was the best part of developing Powermax SYNC?
A: The excitement of making the product easy to use for our customers and the realization that the data collection features could help us make future products better. The team realized that they were a part of something special; a watershed moment for the way plasma cutters would be used in the future.
---
Q: The traditional 5-piece stack-up wears at different rates with the nozzle and electrode wearing fastest. How did you address wear rates when developing the cartridge?
A: The cartridge parts are all aligned and in tune with each other which is much more advantageous than mixing and matching old and new consumable parts. This mixing and matching is what typically happens with a traditional stack-up because, from a cost standpoint, it would be very expensive to change out all five consumable parts every time. I think people don't realize though, that when old and new parts are mixed, the cut quality is not as good nor as consistent. However, with Powermax SYNC®, the components in the cartridge are all new to begin with so we are finding that it not only lasts longer but the cut quality is much better and more consistent.
---
Q: The Powermax SYNC platform contains a lot of new technology—the cartridge itself, the RFID chip, automatic set-up, data collection, torch controls, etc. Which technology are you most proud of?
A: That's a tough one. It's like picking a favorite child. The team is proud of all the features as each presented a specific challenge we needed to overcome. This required tremendous tenacity and very significant financial investment.
---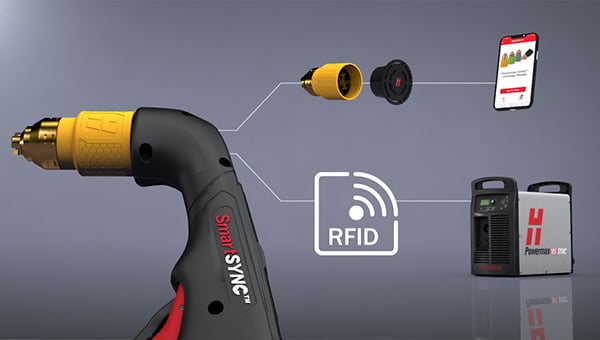 Q: The Powermax SYNC collects data as you use it. Why did the team decide to include data collection and how did you get the data collection feature to work?
A: In talking to our customers and listening to their challenges, we knew that the ability to better track what was going on during the plasma cutting process would be very useful. Instead of having to make an educated guess as to why a particular cut was bad or why a consumable set lasted half as long as normal, we wanted to provide hard data so our customers could more easily pinpoint issues. In addition, we knew the data could likely help companies identify training or infrastructure gaps. The data is also useful to Hypertherm. The insight we gain from knowing exactly what is happening during the cutting process can help us focus our engineering efforts. How was it achieved? The short answer is that we leveraged RFID technology and features common to a lot of smart phones.
---
Q: You no doubt watched and talked to a lot of customers during field trials. What was it like to interact with customers using the platform your team developed?
A: It was great. I was surprised by the number of customers who did not want to give their systems back! They were thrilled by the ease of use, cut consistency, ease of inventory management, reduced operator training, and availability of data.
Learn more about Powermax SYNC