Be the boss, while putting yourself through school.
By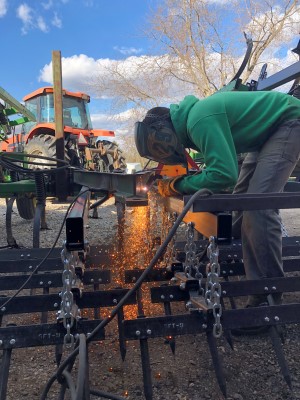 Being your own boss, while paying your way through college might seem difficult, if not impossible, but at least one savvy millennial is using plasma to do just that. Meet Justin Sly. His story starts in 2011 when he started his own business, JSI Industrial, in his hometown of Saline, Michigan.
In those early days, he cut grass, trimmed trees, and performed light welding repairs, with the goal of funding college and business growth. A few years later, he started taking classes at Michigan's Ferris State University. He picked well as this nationally recognized program is considered one of the best in the United States.
While there, he was introduced to Hypertherm's Powermax plasma systems. The program uses many Powermax plasma systems and Sly was impressed, "I've used other plasmas; there is nothing like a Powermax and my classmates all agree."
Sly saw the perfect opportunity to expand his business into a dedicated fabrication shop. He bought himself a Powermax45 XP and did things like repair and modify farm equipment, saying "Farmers are the life-line of my business and by far the best customers anyone could ever ask for. Farmers don't ask when something will be done, they ask what they can do to help and are always beyond generous, supportive, and loyal."
I have repaired and rebuilt everything from hay equipment to planters and harvesting equipment. If a farmer uses it, it has at one point been through my shop for repair or rebuild with the busiest times being spring and fall."
In addition, Sly's work has included building equipment attachments, metal staircases, industrial walkways, and doing ornamental work on decorative railings for his customers. He used the money made from these jobs to pay for school, before graduating last spring with an associate degree in heavy equipment service and a bachelor's in welding engineering technology.
The solid education he received at Ferris State, combined with the energy he put into his own studies, resulted in Sly receiving a job offer from General Motors immediately after graduation. Though he works there full-time as a project engineer, he continues to operate his own business and has plans for expansion. "I recently purchased a 4' x 8' CNC plasma table and my hope is to soon purchase a Powermax85 to use on it."
Are you a student wanting to follow in Sly's footsteps? Learn more about our educational resources for teachers and students, including our student rebate.