XPR: Setup made easy
Posted on
01/15/2018
Posted by
When talking about the XPR300™, many times the first thing we think about is the expanded cutting capabilities and cut quality the XPR has introduced to the plasma cutting industry. The XPR with its X-Definition® cutting on mild steel, stainless steel and aluminum increases cut speed, dramatically improves productivity, and delivers improved cut quality all while slashing operating costs. It is no wonder the features that make the XPR easy to use, set up and monitor are often times overlooked. This is another area where the XPR sets the new standard for achieving advanced system performance easily. From system set up and installation to connectivity and process optimization, the XPR's intuitive operation and automatic system monitoring redefine easy plasma cutting.
Easy to set-up and move
With only 4 components - power supply, gas console, torch console and torch assembly - the XPR300 is easy to connect. Our design engineers even considered ease of moving the system around the shop floor.
A single lift eye on top of the power supply lets you lift and lower from above.
Feet on the bottom of the power supply allows fork lift maneuverability from all four sides.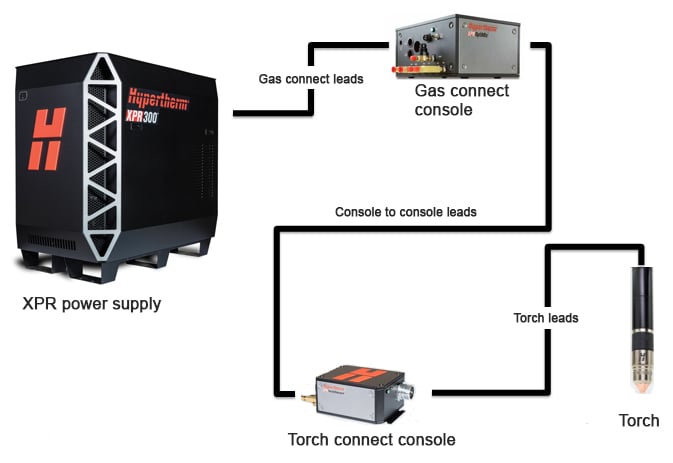 Advanced technology
The XPR300 is engineered to deliver highly responsive, rapid system feedback, and automated processes for less operator intervention.
Both the gas and torch consoles feature automatic gas setting capability so operators can select and drive machine operation and cutting processes directly from the CNC.
Advanced chopper circuitry instantaneously senses and automatically responds to changes in arc voltage and current settings.
Fast torch and consumables changeouts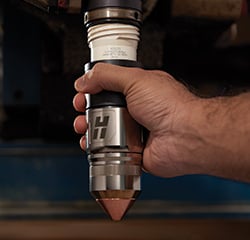 Connecting and switching between torches is easier than ever as are consumable change outs, which benefit from several newly patented processes.
A single lead called EasyConnect™ connects the torch to the torch console, simplifying and reducing set-up time.
The torch-to-receptacle connection is designed with more thread starts for smooth alignment and full engagement after just one full turn. Torch change-outs are so easy you only need to use one hand.
Consumable change out time and electrode misalignment is greatly reduced thanks to our unique QuickLock™ electrode. A quarter turn is all that is needed to lock your electrode into place. In comparison, traditional plasma electrodes use threads that are difficult to start and align and require 5 full turns to engage.
Monitoring
The XPR300 is our smartest system yet with Wi-Fi and advanced monitoring capabilities built right in.
Connect to mobile devices like smart phones and tablets so you can see what your system is doing at all times. You can even perform simple process set-up tasks using Wi-Fi.
Ability for Wi-Fi connection to a LAN so you can monitor multiple systems at once.
Specific troubleshooting codes tell you when preventive maintenance is needed and help you identify and quickly correct issues for much less down-time.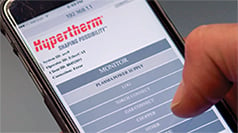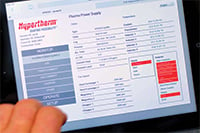 Posted on
01/15/2018
Posted by