Part 2 – X-Definition process technologies cause step-change improvements in mild steel performance
Posted on
07/08/2018
Posted by
Editor's note: This is the second article in a three part series. Read Part 1
XPR™ and X-Definition® plasma brought with them numerous new process technologies that delivered a step-change difference in performance, even compared with the recent generation of high definition systems. ISO 9001 measures a cut edge's deviation from perpendicular and encompasses 5 ranges, with 1 having the least deviation and 5, the greatest deviation from perpendicular. Whereas on mild steel, conventional plasma is primarily an ISO range 4 and 5 cutting technology and high definition is primarily a range 3 and 4 cutting technology, X-Definition plasma is primarily an ISO range 2 and 3 cutting technology. Another difference is that it holds onto those ranges for much of its enhanced (compared with earlier generation systems) consumable life.
ISO range 2 and 3 cutting technology
When cutting at 130 amps or higher on thicker materials, defined as anything greater than 12mm or 1/2" up to its maximum production thickness, the XPR is capable of delivering range 3 cuts for most of the life of a consumable set. When cutting thinner materials, defined as anything less than 10mm or 3/8", with lower current processes (30 amp or 80 amp), X-Definition cutting is heavily oriented to ISO range 2 quality.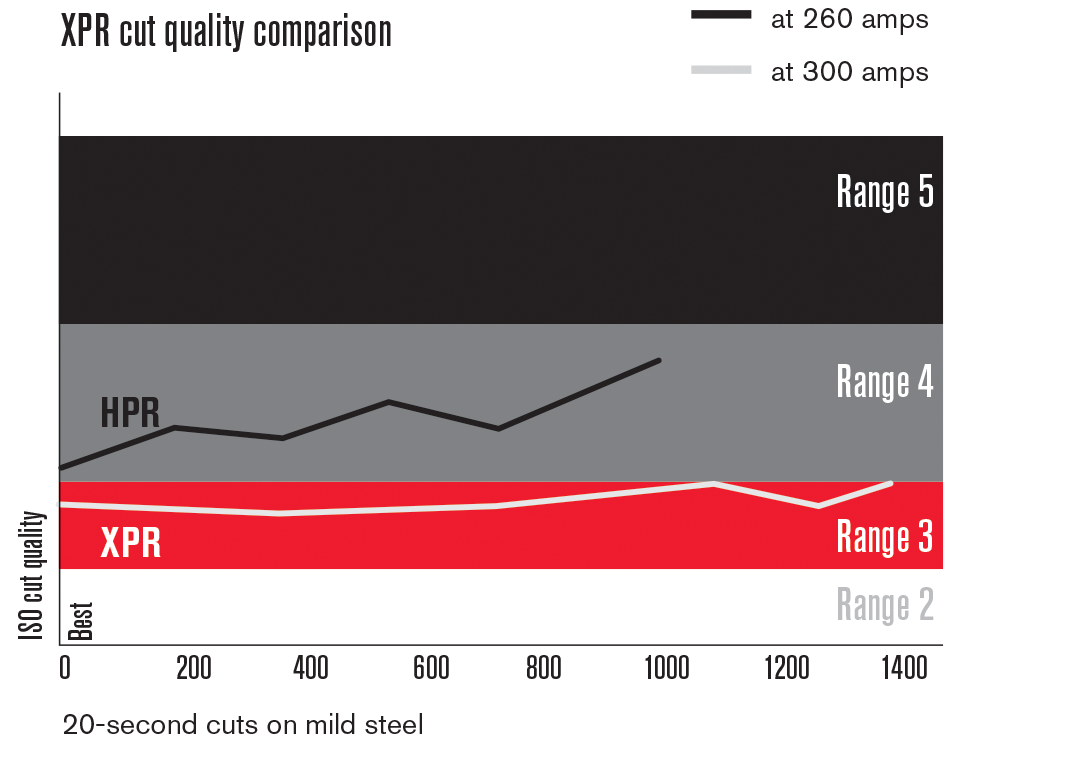 At full 300 amp output on thicker materials, X-Definition plasma found on the XPR300 can maintain consistent ISO range 3 cut quality throughout almost the entire life of a set of consumables. This compares with range 4 cut quality for earlier generation high definition cutting.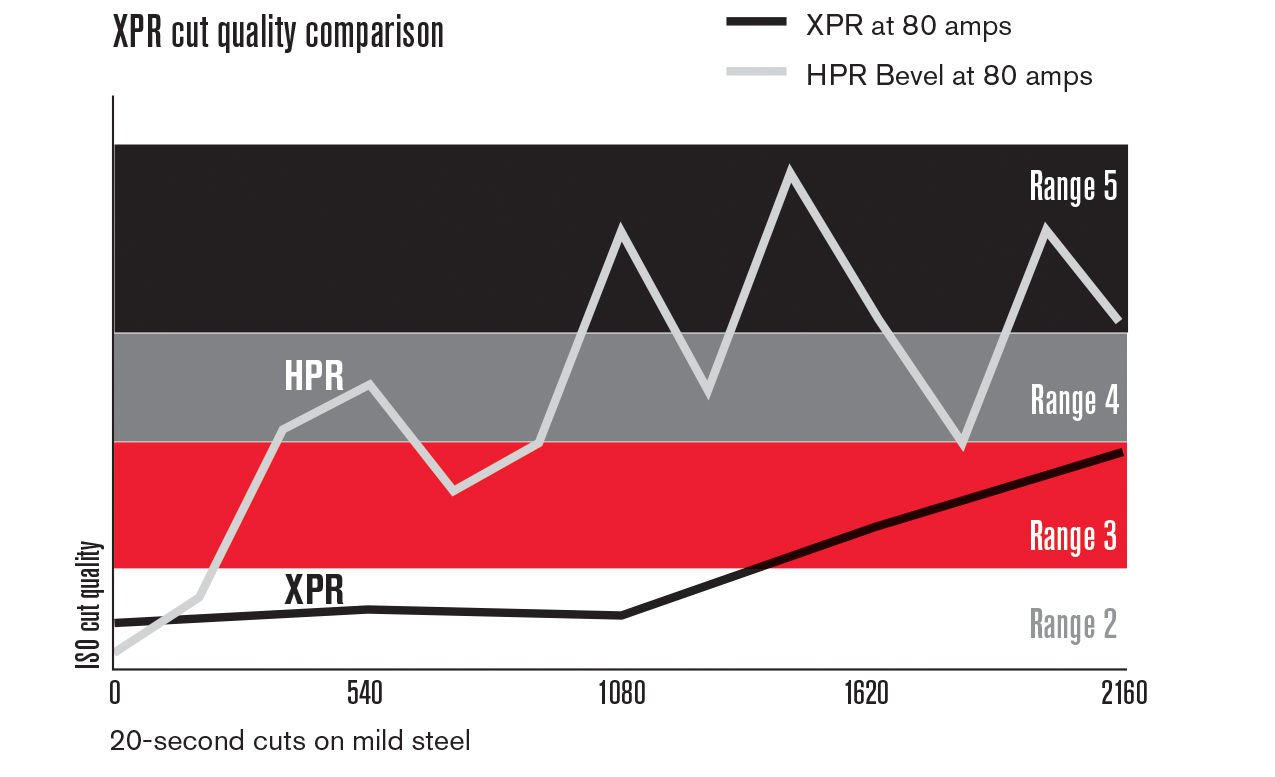 On thinner materials (e.g. 10 mm or 3/8" and below) an 80 amp X-Definition plasma process is consistently in ISO range 2 for more than 1,100 20 second pierces and cuts before moving into range 3 (note: tests were deliberately terminated at 2,160 starts prior to consumable end of life). This compares predominantly with range 3 and 4 quality for earlier generation high definition cutting.
Plasma vs. laser
In tests made alongside fiber laser, we found ISO ranges compared well across a variety of thicknesses. Below are two examples at 6 mm (1/4") and 12 mm (1/2"), where X-Definition processes were selected to run at speeds meant to optimize both quality and productivity (so not just focused on quality). At 6 mm, X-Definition showed less average edge deviation from perpendicular and slightly lower variability in deviation even after 1,000 starts. The results were similar on 12 mm (1/2") thick mild steel.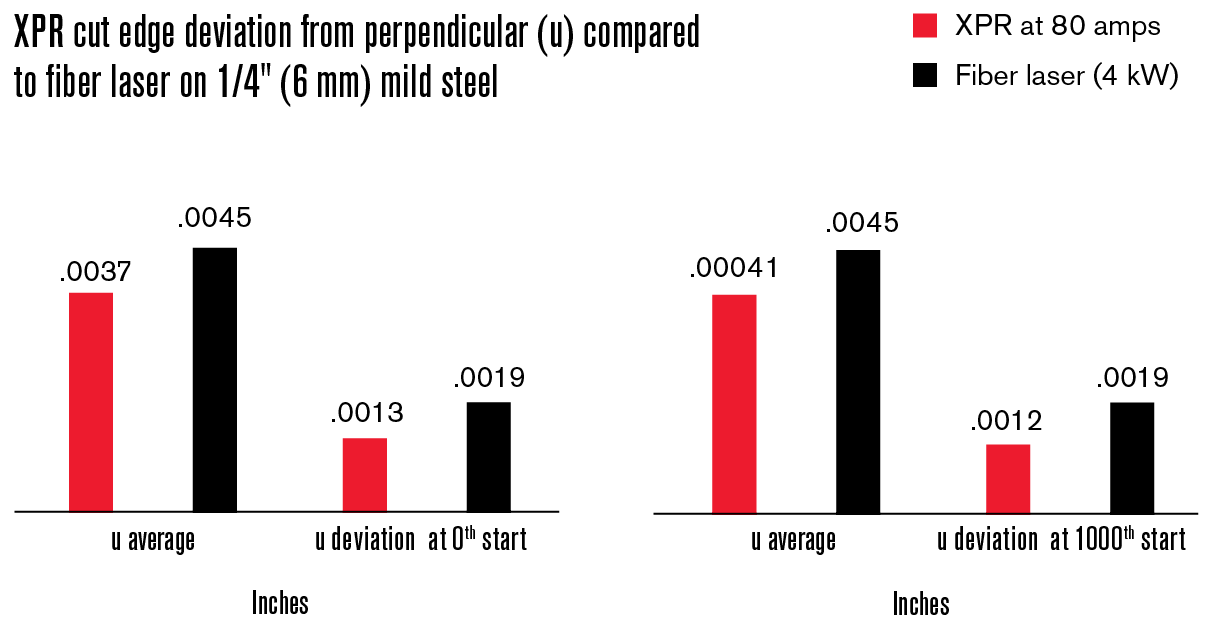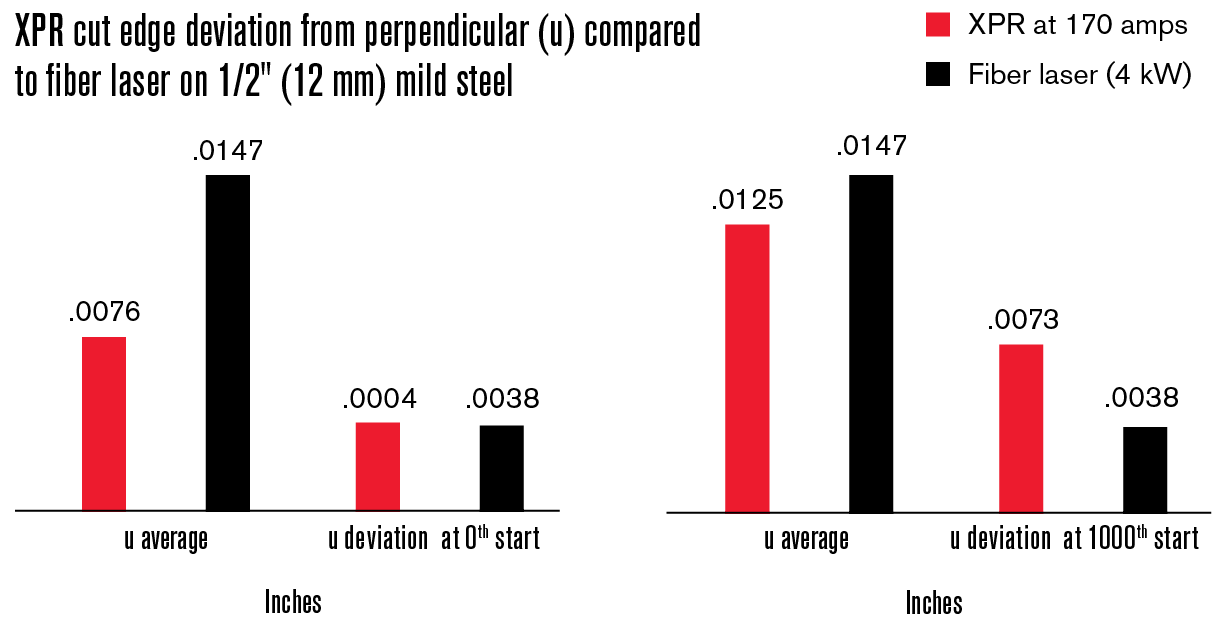 What do all these measurements translate into in terms of actual cut parts? Below are some examples of mild steel cuts that show what we are talking about.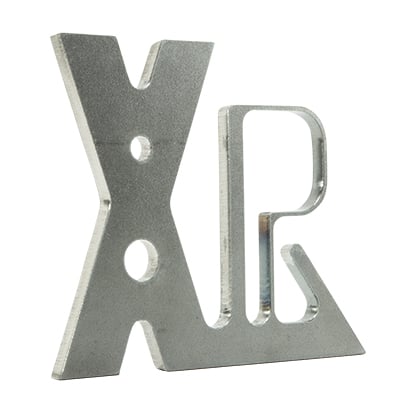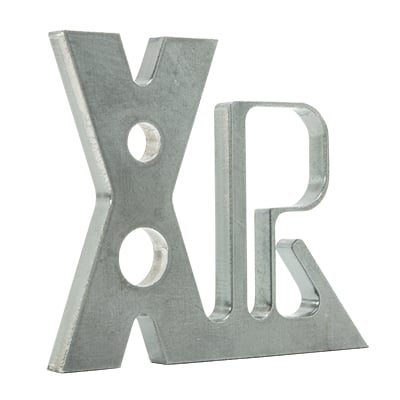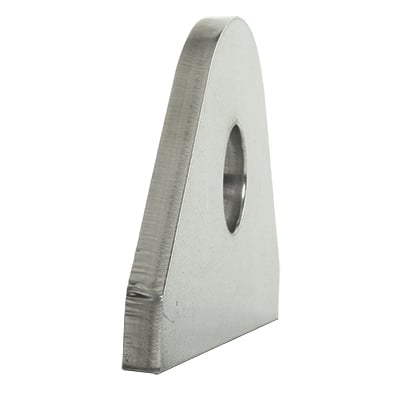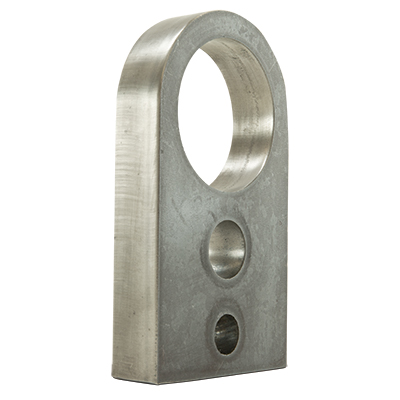 From thinner to thicker mild steel cuts, X-Definition class plasma delivers a "buttery" smooth surface finish, sharp top edge with excellent perpendicularity and hole quality. Particularly on thinner mild steel, fine feature capability is very good.
Are you ready to see what today's X-Definition plasma can do? If so, contact us today.
Posted on
07/08/2018
Posted by