Following through on regular system maintenance
By
We've talked about system care in the past. It's like your car. To get the best performance, you need to regularly maintain it. The Owner's Manual included with every new Hypertherm system, CNC, and THC outlines exactly what to do.
In addition, owners of our large industrial plasma supplies like our HyPerformance and MAXPRO Plasma (basically every system except for Powermax) can see our list of recommended maintenance items in this blog post.
All systems have daily, weekly, and monthly maintenance requirements. To help you keep track of what needs to be done when, we've created a new maintenance log. This log, designed to be kept next to your system, is laminated so you can easily check off items as you complete them. Once you reach the end of the month, erase, and start again. Here's what it looks like.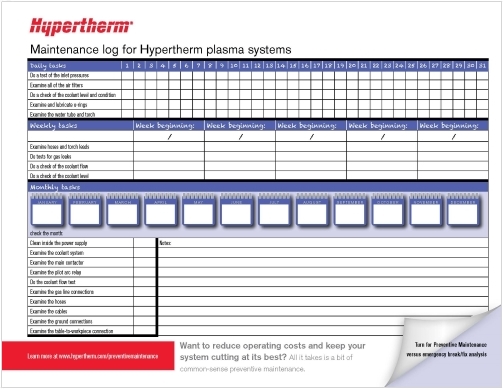 Customers living in Canada and the United States can request a free copy of this log. To receive it, simply complete the form found at http://response.hypertherm.com/PMLog before April 1 of this year.