ArcGlide torch height control
Traditional torch height controls require operators to periodically adjust arc voltage to ensure proper cut height. Using Hypertherm's proprietary techniques, the ArcGlide® torch height control (THC) continuously samples arc voltage and automatically adjusts arc voltage for proper torch height over the life of the consumables without requiring operator input.
The result: optimal cut quality, improved productivity and reduced operating costs for plasma cutting applications – including True Hole® capability for HyPerformance® plasma HPRXD® installations. The ArcGlide THC is available in both CNC-integrated (with Hypernet® communication) and standalone configurations.


System information
Benefits
Higher productivity
Rapid Part™ technology minimizes cut-to-cut cycle time – for a dramatic increase in parts per hour
Automated Initial Height Sense (IHS) minimizes the time for the torch to find the plate without risking damage; IHS is automatically skipped where possible based on part geometry and plate characteristics
Rapid z-axis movement to an automatically set retract height minimizes torch retract time
Number of parts - 203 mm flange (8") (see chart)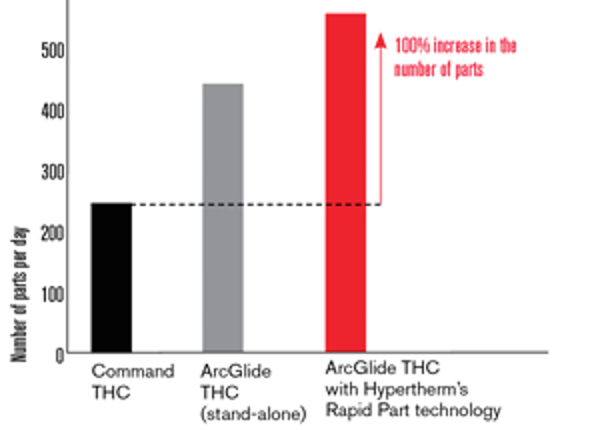 ---
Lower operating costs
Optimal consumable life and superior cut quality through arc voltage sampling and control
Extremely robust mechanics ensure highest reliability, backed by a two-year warranty
Hypernet® installation simplifies operation and reduces installation time
Number of consumable starts with < 0.25 mm (0.010") deviation from proper cut height without operator intervention (130 A) 12 mm (1/2") mild steel (see chart)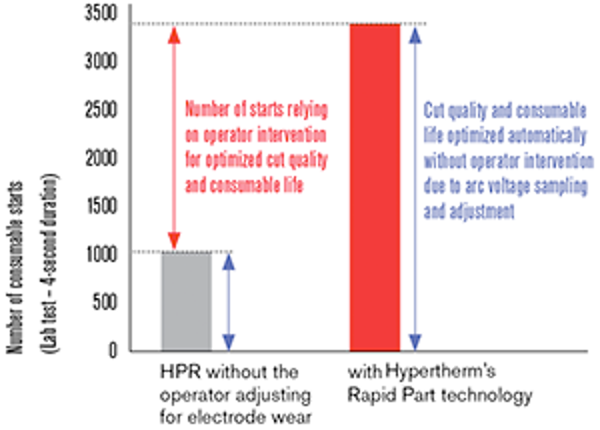 ---
Specifications
Regulatory
CE, CSA, GOST-R
Temperature range
-10° C to + 40° C ambient (14° F to 104° F ambient)
Humidity
95% RH
Dimensions
Lifter: 127 mm (5.0") X 151 mm (5.9") X 743 mm (29.3")
HMI: 298 mm (11.7") X 131mm (5.1") X 118 mm (4.6")
Control module: 359 mm (14.1") X 157 mm (6.2") X 206 mm (8.1")
Torch mount / breakaway assembly
11.4 kg (25 lbs) magnetic (recommended)
4.5 kg (10 lbs) magnetic
Pneumatic
Torch mount options include 51 mm (2"), 44 mm (1-3/4") and 35 mm (1-3/8")
Stroke speed
15240 mm/min (600 ipm)
Lift capacity
11.4 kg (25 lbs)
Warranty
Two-year warranty standard
Communication protocol
Hypernet® to CNC
Discrete wiring or Hypernet to the plasma system
Voltage
115V/230V for the HMI at 50/60hz
115V/230V for the control module at 50/60hz
Lifter stroke length
241 mm (9.4")
Table types
Downdraft and water table
High amperage capacity
1 – 4 plasma system
Communication protocol
w/ Hypernet – Hypernet to the CNC/HMI with Hypernet or discrete to the plasma
w/o Hypernet - Hypernet to the HMI or RS-422 serial to the CNC with discrete to the plasma