Consumables and torches are a critical part of any cutting system
Manufactured to the highest standards, genuine Hypertherm torches and consumables enhance cut quality, extend consumable life, and boost productivity – at the lowest possible operating cost. And those same advantages extend to our Centricut® brand of torches and consumables for non-Hypertherm plasma and laser systems, as well as to our AccuStream® brand of waterjet consumables.
Need help?
Give us a call. A Hypertherm Specialist will help you locate the right consumables for your plasma, laser or waterjet system.
Plasma consumables: care and optimization eLearning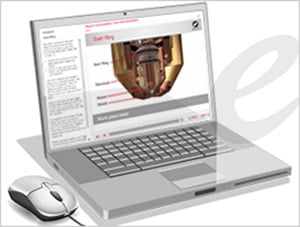 This course introduces the most common Hypertherm plasma consumables and their features, how to properly configure consumables and assemble torches, and how to maximize your consumable life and cut quality.
Take the course
Powermax consumable education
Short video tutorials to learn why and when you should replace your Powermax® consumables.
Read more
Hypertherm plasma consumables and torches
Hypertherm consumables incorporate the latest technologies to keep your plasma cutter or plasma cutting system operating at peak performance.
Find available torches and consumables
These catalogs contain all of the torches and plasma consumables for current and discontinued Hypertherm plasma systems.
Centricut plasma, CO2, and laser consumables and torches
Centricut consumables and torches are manufactured to Hypertherm's exacting standards to deliver superior performance at a lower cost than OEMs.
Waterjet consumables
AccuStream offers a full line of highest quality parts and consumables for all major brands of waterjet cutting systems.