Once programmed, the THC gently touches the surface of the material, and then retracts to the proper pierce height. After starting a pierce, the THC will tell the torch to wait a second or two to allow for a full pierce, then have it move down to cut height, which is critical to cut quality. If the torch is too low, you risk a collision with the plate; too high and you'll get a kerf that's too wide, as well as increased edge angularity, dross, and warpage. Once the X and Y motion get up to speed (after the height control delay timer times out) the arc voltage feedback control takes over to maintain the proper torch-to-work distance.
With traditional THCs, the operator must periodically adjust the set arc voltage to ensure proper cut height. For increased productivity and profitability, look for an intelligent THC system that automatically adjusts for electrode wear. Some THC systems offer arc voltage sampling to track the progressive consumable wear. By continuously monitoring the arc voltage after each pierce, the value of the set arc voltage value can automatically be adjusted to consistently maintain the proper cut height over the life of the consumables, without additional operator input. This results in achieving optimized cut quality and the maximum consumable life saving both time and money.
Number of consumable starts with < 0.25 mm (0.010") deviation from proper cut height without operator intervention (130 A) 12 mm (1/2") mild steel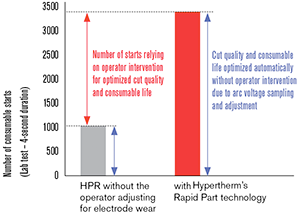 Want to learn more about height control theory?
Take our free "Height control theory" eLearning course on the Hypertherm Cutting Institute
Read more