As part of Hypertherm's SureCut™ technology, PlateSaver™ technology provides a significant increase in plate savings and profitability. The enhanced arc stability feature of XPR™ X-Definition® plasma quickly stabilizes the plasma torch arc and allows for shorter lead lengths and closer placement of parts.
PlateSaver technology introduces new, specialty leads to the CAM software when programming jobs for machines equipped with XPR. It adjusts lead size, style, location, and uses a moving pierce to minimize part separations while at the same time maintaining part quality.
Benefits of PlateSaver technology
Lower cost-per-part due to increased material utilization
Less time spent loading and unloading plate
Reduced inventory and inventory management
Reduced carbon footprint through the use of less steel
PlateSaver costs savings calculator
Enter some basic information about your current plate usage to calculate your potential material cost savings and scrap reduction with PlateSaver.
---
More profit per plate
PlateSaver technology gives you an impressive increase in material savings, which translates directly to profit Because you can get more parts out of every plate,
you're buying less raw material to produce the same number of parts, and producing less scrap.
That reduction in material spend drops right to your bottom line, providing a significant boost in profitability.
The example below is based on a typical, mid-sized metal fabrication or manufacturing business - results may vary based on the size and shape of your parts.
Material utilization impact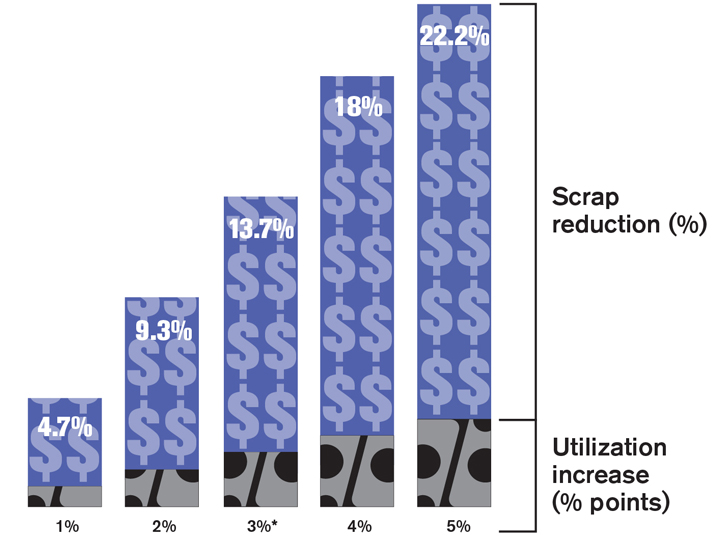 SPECIFICATIONS

Material
Mild steel, X-Y cutting only
Applies to select material thickness and appropriate plasma process combinations between 13 mm (1/2″) and 32 mm (1-1/4″)

Requires XPR™ X-Definition® plasma system
Requires compatible CAM software. For ProNest® users, version 14.2 or later

Requires compatible CNC software. For EDGE® Connect CNC users, Phoenix® version 10.18.1 or later

Important: moving pierce technique can present a safety concern due to increased sparking and spray from hot gases; proper precautions should be taken to avoid personal injury, fire, or damage to equipment