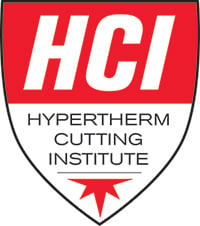 Hypertherm provides free in-house training for many of our products. Available exclusively for authorized Hypertherm channel partners, these courses are designed to familiarize our business partners with the latest innovations and technologies in handheld and automated plasma cutting, as well as the tools and resources necessary to sell, support, and service Hypertherm's product families.
Sales training classes cover the differences between the various metal cutting technologies. Channel partners will become familiar with the features and benefits of our product lines, such as Powermax® and mechanized plasma, CAD/CAM software, Computer Numerical Controls (CNCs), and Torch Height Controls (THCs). We will facilitate an interactive learning experience consisting of activity-based product overviews, Q&A, and a significant amount of hands-on practice in our training facility. Attendees will better understand the functions and capabilities of Hypertherm products, and increase their confidence in making metal cutting product recommendations.
Technical service training courses are designed to provide technical service professionals with the foundation needed to repair and support Hypertherm products. These popular training workshops use a combination of classroom and interactive lab exercises involving hands-on experience to assist attendees in deepening their knowledge of proper installation, setup and operation. Machine-specific classes are designed to provide in-depth technical information about our current cutting systems. The focus is on understanding the subsystems and the sequence of operation of the machines. Hands on troubleshooting will reinforce the classroom experience and provide the attendee with a solid understanding of how these systems operate and how best to approach repair issues.
Hypertherm in-house sales and service classes are facilitated at Hypertherm's 71 Heater Road, Lebanon, NH facility. These classes are free – though attendees are responsible for travel and lodging expenses. All classes require completed prerequisites. To complete the prerequisites and register for any Hyperthing in-house training class, please visit the Hypertherm Cutting Institute.
Note: most courses are available in english only.