When do I replace my Powermax swirl ring?
By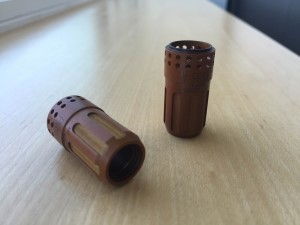 Powermax owners often ask us for a consumable replacement schedule. While nozzles and electrodes are the most regularly replaced consumables, followed by shields, many users do not know when to replace their swirl ring. Here are some common signs that it is time to replace your Powermax swirl ring:
The electrode sticks and does not slide freely into or out of the swirl ring.
The swirl ring is cracked, distorted, or constricting the electrode.
There is residue or particle build-up on the internal or external surfaces of the swirl ring.
The gas holes in the swirl ring are partially or completely blocked.
The general rule for swirl ring replacement is one swirl ring for every twenty electrode and nozzle replacements, but we recommend routine visual inspections to determine replacement frequency for swirl rings. That's because you may need to replace one earlier than scheduled or anticipated. For more information, watch this video.
If you still have questions about swirl rings? Hypertherm's North American Technical Service Team is happy to help. Contact the team by email or if you're in the United States or Canada, call 1 (800) 643-9878.