The Saw Lady
She's a real cut up
By
Though not your typical blog post, we wanted to share the following article from the Fall 2017 issue of Hypertherm's SPARK (now SHAPING) eMagazine. Subscribe now. All photos courtesy Art Whitton.
Listen to Cindy Chinn speak and you can't help but be entertained. Full of energy with unlimited artistic vision, this one-time creative art director is something else. Neighbors call her The Saw Lady. "People will yell it out, 'Hey, Saw Lady' to me at flea markets, yard sales, and around town," she says.

This California native has always loved art, training at the Academy of Art University and San Francisco State University, before making her way to Las Vegas where she spent her days designing slot machine and video game art. She was even the lead animator for Disney's Lion King video game.
She and a partner, aptly named "Art" (Whitton), started their own creative services company serving clients in Nevada and Oklahoma. Chinn was happy. Things were humming along. She and Whitton started making plans to build a small 600 square foot artist's studio behind their home in Vegas. While waiting for the building permits, Chinn happened to find a 14,000 square foot school in Nebraska that was up for sale. It cost nearly half as much as her planned studio. The couple ultimately passed on the opportunity because the school was too far away from an airport, but the seed was planted.
They kept looking, finally finding what originally served as a K through 12 school in Chester, Nebraska. For $100,000, Chinn and Whitton were the proud owners of a 33,000 square foot school complete with its own gym. It wasn't long before the moving trucks – three in all – rumbled into town. That was more than a decade ago. This small Nebraska community, with a population of 232 people, hasn't been the same since, in large part because of the couple's artistic passion and community minded spirit.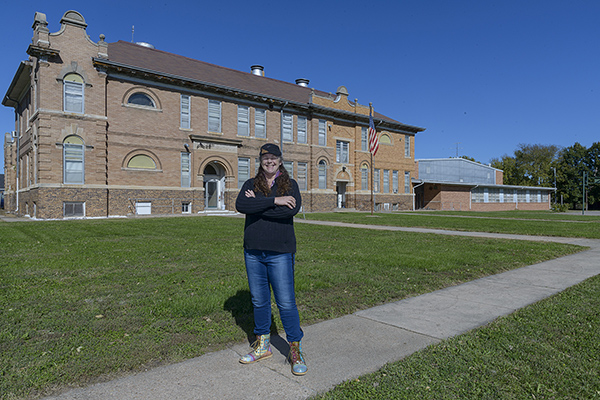 The Saw Lady in front of her home, studio, and school.
The former public school now serves as a personal home, studio, and art school called The Center of Creativity where Chinn offers private lessons to selected high school students. With 15 classrooms, there's enough room to teach just about every art form: glass, painting, textiles, carving, metal, and whatever else Chinn's unlimited imagination conjures up. The holiday season sees the school's large grass field and 32 front windows transformed into a jaw dropping holiday light show complete with choreographed music.
Though she is most noted for her pencil lead carvings—miniature carvings created from pencils—it is Chinn's work with plasma that captured Hypertherm's attention. Chinn says she purchased an "inexpensive combo thing" online and began practicing her plasma cutting technique. She did that until she ran out of things to cut in her studio, then started going to yard sales. At one sale, she stumbled upon 14 old saws. Inspiration struck and Chinn purchased the whole lot. Back at the school, she started drawing on the saws, creating intricate outdoor scenes, before cutting out her designs with plasma. Soon a new business opportunity developed. While Chinn was busy cutting, Whitton was busy photographing and adding the saws to a new website he had created, www.TheSawLady.com.

Two of Saw Lady Cindy Chinn's intricate pencil lead carvings (above left) and the artist at work with her Powermax.
The saws just sat there at first, but then around Christmas 2015, the orders started piling in. The couple soon had 150 orders in front of them. At this point, it was clear the "inexpensive combo thing" wasn't going to do the trick. Chinn needed something more substantial. She researched and researched before selecting a Hypertherm Powermax30 XP. The system's FineCut consumable option was real attractive to Chinn. She says, "Fine tips are necessary for this work and I go through a lot of consumables. I need to change consumables often, before they arc-out. If you're cutting out a deer and the arc goes out to the side, your four legged deer becomes a three legged dear, fast."
So far Chinn says her Powermax30 XP is performing admirably. It definitely gets put to good use with Chinn spending up to 15 hours a day cutting out saws during the November and December holiday season. "My business partner lets me know when I need to get into the shop to make saws," she says. Though the days are long, Chinn is happy people like her designs so much.
Everyone that is, except for one man in California. "I did receive hate mail from a fine finish carpenter in Berkeley. He was so upset that I was cutting up these old saws so I invited him to my shop and offered him the opportunity to rescue any and all the saws he wanted to. We exchanged a few more emails and eventually a rather absurd friendship blossomed. It is all positive now."
Sourcing rustic saws is now a constant but fortunately her adopted community of Chester is there to help. "I never buy saws from antique dealers because their prices are too high, but I have an army of saw hunters now. There have even been a few times where I've come home to find a pile of saws outside on the picnic table in front of the school or on the steps of the main entrance."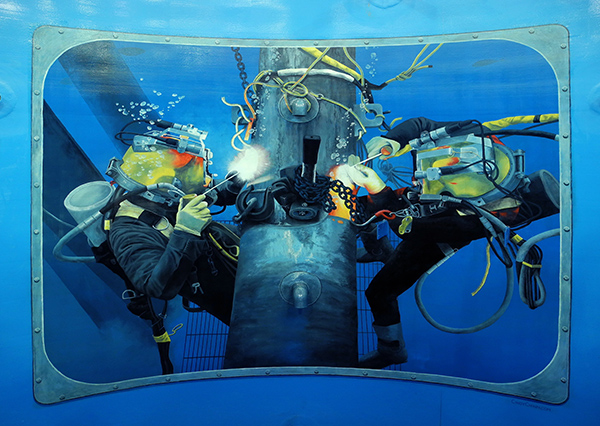 Cindy Chinn's artistic talents are wide ranging as proven by this mural she painted of underwater welders for a welding school.