FineCut air plasma consumables
Everything you need to know about cutting thin metals with your Powermax plasma system
By
FineCut® consumables are ideal for cutting intricate, fine-featured shapes out of thin sheet metal. These specialty consumables are specifically engineered to provide squarer edges, tighter tolerances, and a narrower kerf on thin metals.
FineCut consumables work with both hand-held and machine-mounted Powermax® plasma torches. If cutting by hand, FineCut usage is straightforward, just install the consumables and start cutting. Although consumable installation and the plasma process are similar for the machine torch, the CNC machine capabilities ultimately determine the level of cut quality that can be achieved.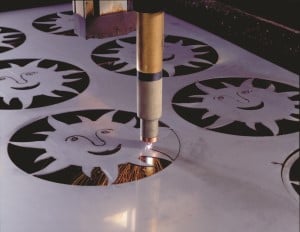 Fine-featured CNC plasma cutting
CNC cutting tables are available for any budget and can come with a wide range of capabilities. It is important that the table you choose has three things:
A rigid torch mount.
A good torch height control system.
The cut speed capabilities necessary to produce smooth cuts with square edges.
Other things to consider:
FineCut consumables work best on mild and stainless steel, up to 45 amps.
Consumable performance is impacted by the chemical make-up of the sheet metal, so expect occasional adjustments from one sheet of metal to the next. Slight differences are normal between batches of steel, so be aware of this and understand fine-tuning may be required.
Use a shield (not a deflector) for the best cut consistency and nozzle life. The ohmic shield for the Duramax torch is part number 220948.
Wipe the front of the torch clean; spatter will affect cut quality and performance.
Conclusion
Always refer to and follow the Powermax cut charts for your system. These charts include the specifications required for FineCut consumable applications.
Some CNC machines will do an excellent job on materials thinner than 10 gauge, while others will not. If your CNC machine has the speed and torch control that's required for FineCut applications, you'll likely be very satisfied with the results.
Learn more about specialty consumables for your Powermax air plasma system.