Buyer beware: Pink goo has Hypertherm customers seeing red.
By
Don't get fooled by fakes
It's probably no surprise there are dishonest people out there who make and sell counterfeit Hypertherm consumables. We've seen it with our plasma electrodes and nozzles, but did you know counterfeiters are now making and selling fake Hypertherm coolant? It's true and becoming more common.
Online purchases, rather than in-person sales, make it more challenging to really know who you're buying from, likewise unauthorized dealers don't have access to Hypertherm products because they're neither trained nor allowed to sell them. If an unauthorized distributor is selling a Hypertherm product then they did not get it from us.
More frankly, the fact is if you're buying Hypertherm products from anyone other than an authorized Hypertherm distributor or OEM, you do run the risk of receiving fake products.
Fake coolant
As known, Hypertherm coolant is essential for the operation and life of your system. Though the long-term use of counterfeit coolant has not been studied, people have reported seeing immediate damage to copper parts and diminished system performance. In a recent call, a customer who purchased counterfeit coolant saw a build-up of a pink "goo" on his parts as seen in the photo below. Keep in mind an issue like this could be the first indication that your coolant is a counterfeit product.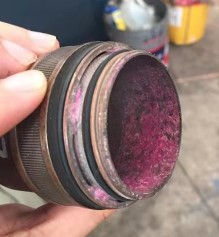 Tips to ensure you buy real coolant
Only buy your Hypertherm coolant from authorized Hypertherm partners. If you have questions about whether a seller is authorized, visit the Where to buy section of this site or contact us for help.
Keep in mind that genuine Hypertherm coolant only comes in two sizes, a gallon jug (part number 028872) and a 55-gallon drum (part number: 428839) so if you see the coolant is packaged in a different size, it's a fake.
Last of all, don't be enticed by prices that seem too good to be true.
Report concerns
If you do suspect that you may have bought a counterfeit Hypertherm product, please let us know right away. We have a form on our website that can be filled out quickly. We're most interested in the seller's name as well as any additional information you can provide about your purchase. Photos are extremely helpful. We want to clearly see the coolant label and the shape of the bottle it's on.