CNC systems from Hypertherm are delivered worldwide with cutting expertise built in, providing consistent product performance with easy-to-use software that empowers the operator to make the optimal cut, every time.
Phoenix® software is the core operational interface and is common across the entire Hypertherm family of CNC systems. The software is designed specifically for the X-Y and bevel cutting market.
Key benefits include:
Integrated communications to plasma and torch height control systems for automated and expert control of the cutting process
Built-in cut charts for automatically setting process parameters for mild steel, stainless, and aluminum to enable consistently optimized cutting performance
Wizards and diagnostic support tools that enable easy setup, use and rapid troubleshooting
The Remote Help utility that enables expert cutting system diagnostics over the internet to reduce downtime
Built-in help and cutting optimization tips for improving table performance and process outcomes at the touch of a button.
Ease of use:
CutPro Wizard
The patent-pending CutPro wizard is an intuitive step-by-step process that guides the operator through the most frequently required job setup steps. In field trials, new operators began cutting high-quality parts in less than 5 minutes without training, drastically reducing the "hire to cut" time. This means that multiple operators across multiple shifts can quickly produce consistent results, making it so you have your best operator on every shift.

As easy as 1, 2, 3, cut!


Step 1 -
Select program

Step 2 -
Select process

Step 3 -
Align part/plate

Step 4 -
Cut
Easy performance:
Built in Expertise
Hypertherm CNCs simplify setup by providing factory default cut charts and consumable information. This takes the guesswork out of process setup for the operator.
Through years of cutting experience, Hypertherm engineers have learned the critical parameters to achieve superior quality performance on every part. Using a feature called Hypertherm PPS (Part Program Support), the communication of these parameters can be done in the part program to achieve superior cuts every time.
PPS capability includes changing processes automatically (i.e., marking to cutting), using custom parameters for process settings, and adapting the speed of the cutting torch to specific part requirements.
When adjustment is needed, Phoenix software also offers the operator on-screen cutting optimization of the plasma cutting process.
Real-time Monitoring
Watch Windows enable on-screen, real-time monitoring of key process and performance information while cutting.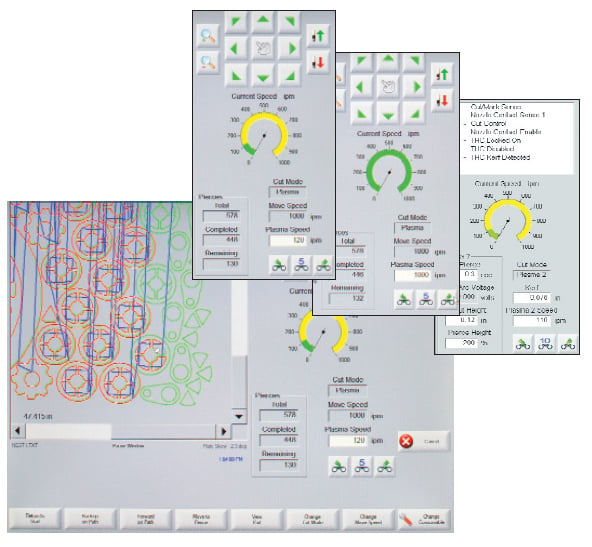 Examples of variables that can be monitored include:
Estimated processing time for the part or nest
Plasma process information
Table motion commands and feedback for quality of motion detail
Status of system inputs and outputs
Cutting parameters such as speed, arc voltage, kerf width, gas flows, etc.
These windows are always visible and accessible during the cutting operation providing the operator the ability to monitor the table performance at any time.
Serviceability:
Remote Help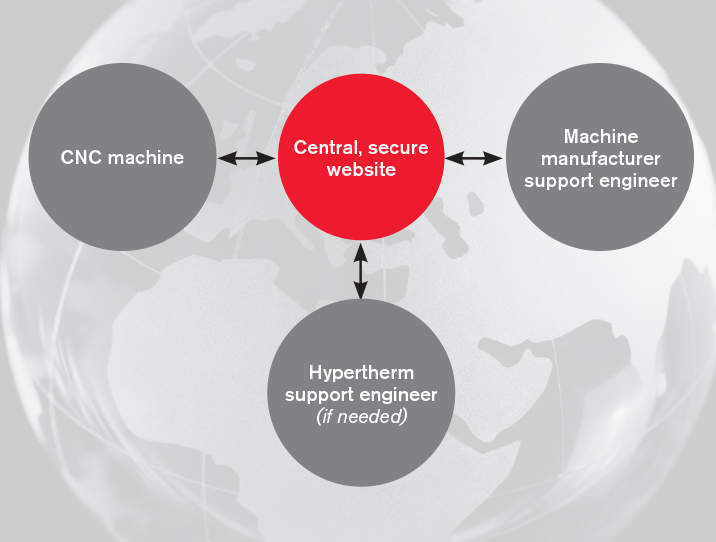 Remote help servicability Remote Help is an internet based tool that allows the table manufacturer (and Hypertherm, if needed) to be virtually in your factory within minutes. CNC, plasma system and cutting table diagnosis and repair can often be accomplished without an on-site visit. This means that cutting tables can be up and running quickly and without costly travel and wait time.
Remote Help features include:
Fast and secure connectivity
Safe remote access to the CNC to view and modify setups
Secure and rapid transfer of files
Up to 15 parties can join the same session
Ability to conduct HyPerformance® Plasma diagnostics remotely
Useful for technical training
Free access for all parties