Protect your investment. Choose genuine Hypertherm torches and consumables to keep your Powerrmax® system running at peak performance. Incorporating the latest technologies and manufactured to the highest standards, Hypertherm consumables enhance cut quality, extend consumable life, and boost productivity.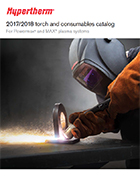 Browse our entire torch and consumable catalog
This catalog contains all of the torches and consumables for current and discontinued Powermax and MAX plasma systems.
Powermax consumable education
One of the most commonly asked questions when it comes to operating Powermax air plasma systems is when should you change-out the consumables? Consumable wear can play a big role in overall quality and performance, so understanding how the consumables function and when to replace them is very important. Below are 5 short videos for each Powermax consumable type that reference why and when they should be replaced.
Enhance the performance of a Powermax system with one of the following. Click on the offering to learn more.