Hypertherm technology reduces costs and improves performance
Through the use of Hypertherm's advanced SilverLine® and CoolFlow™ technologies, Centricut consumables deliver extra value to your cutting process, beyond the capabilities of OEM and aftermarket consumables.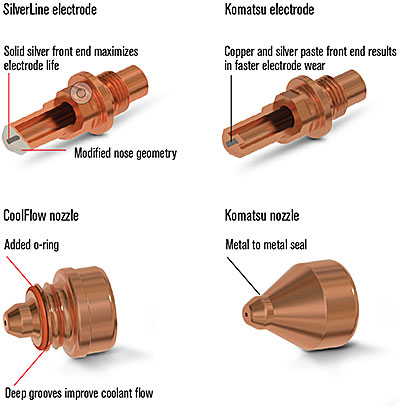 SilverLine electrode technology
Robust solid-state copper/silver weld joint insures electrical and thermal conductivity improving overall electrode performance.
A solid silver front-end maximizes hafnium pit depth and slows hafnium wear rate delivering longer consumable life.
Redesigned electrode nose geometry improves the plasma gas flow to increase electrode life and performance.
CoolFlow nozzle technology
Improved cooling maintains the size and shape of the orifice resulting in maximum life.
Computer-designed contours optimize the coolant flow around the nozzle and substantially lower the operating temperature.
O-rings on the nozzle insure a secure seal keeping coolant away from the plasma chamber and extending consumables and torch life.