Hypertherm is exiting the Centricut plasma business. Last‐time‐buy orders will be accepted through April 29, 2022. Please contact your Hypertherm channel partner or sales manager for further information.
This change does not impact the Centricut laser consumables product line.
Lower your operating costs and improve your efficiency by upgrading to Centricut performance consumables.
Lower costs
Centricut® SilverLine® electrodes have more than twice the life of Komatsu electrodes reducing the number of consumable parts purchased and improving the up-time of your cutting system.
Centricut CoolFlow™ nozzles improve torch leak resistance allowing for longer overall consumable life and process reliability.
SilverLine electrodes and CoolFlow nozzles deliver exceptional cut quality and fast cutting speeds over the full life of the consumables.
Electrode life - Cutting mild steel with O2 at 120 A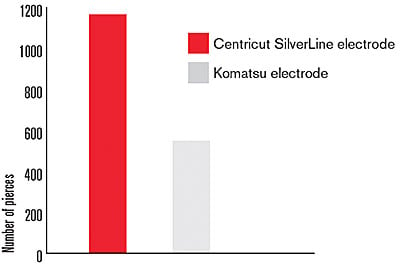 Nozzle life - Cutting mild steel with O2 at 40 A in a customer application (2.0 mm plate 2.5 mm plate)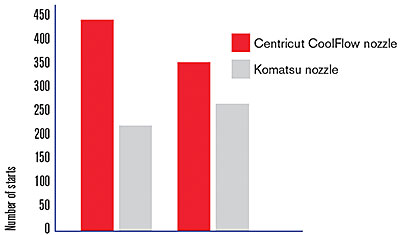 Cut with confidence – it's Hypertherm
As the recognized global leader in plasma cutting, Hypertherm® incorporates the latest engineered and patented technologies into all consumable products.
Designed with critical-to-function tolerances to deliver the best quality product every time.
Precision manufacturing of consumables assures consistency of parts, set to set.
World-class plasma-process technical support.
Easy to use – no special system set up required.