Koike Super 400 Plus

Upgrade to Centricut® consumables to lower operating costs without sacrificing cut quality 
or productivity.
Lower costs
Cut 50% more metal per consumable set.
Reduce consumable usage by one third.
Available at a lower price than OEM.
Local stocking and fast delivery reduce your inventory costs.
Consumable life comparison at 360–400 Amps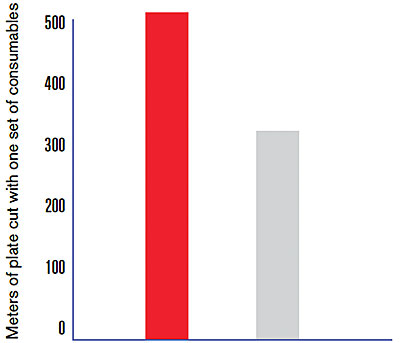 Centricut OEM
Cut with confidence – it's Hypertherm
As the recognized global leader in plasma cutting, Hypertherm® incorporates the latest engineered and patented technologies into all consumable products.
Designed with critical-to-function tolerances to deliver the best quality product every time.
Precision manufacturing of consumables assures consistency of parts, set to set.
World-class plasma-process technical support.
Easy to use – no special system set up required.
Request a sample
A Centricut product specialist will contact you to determine specific product requirements for your free sample order.