Lower costs
Centricut® consumables provide equal performance to Kjellberg® standard and neo consumables, but at a competitive price.
SilverLine® electrodes and CoolFlow™ nozzles deliver exceptional cut quality and fast cutting speed over the full life of the consumables.
Local stocking and fast delivery reduce your inventory costs.
Keyless nozzle design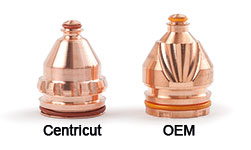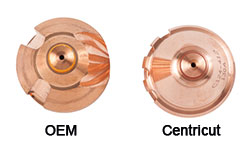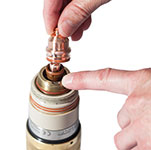 Centricut's patented nozzle design for Kjellberg PerCut 210M, PerCut 221M, PerCut 450M, and PerCut 451M torches provides better performance and improved cooling around the orifice and o-ring.
Its simple design is a universal replacement for all Kjellberg keyed nozzles.
No tools or special keys are required for installation.
Easy to use
No special system set up required.
Centricut consumables fit all versions of the PerCut 210M, PerCut 221M, PerCut 450M, and PerCut 451M torches.
Centricut offers consumables for Kjellberg's Contour Cut™ cutting processes.
Cut with confidence – it's Hypertherm
As the recognized global leader in plasma cutting, Hypertherm® incorporates the latest engineered and patented technologies into all consumable products.
Designed with critical-to-function tolerances to deliver the best quality product every time.
Precision manufacturing of consumables assures consistency of parts, set to set.
World-class plasma-process technical support.
Easy to use – no special system set up required.