SilverLine® electrode technology
Slows wear
Maximizes usage
Extends electrode life
Through the use of solid state welding technology and optimized coolant flow, SilverLine technology slows the wear of hafnium, the material which produces the plasma arc, by more efficiently removing heat from the electrode. By maximizing the silver-hafnium interface and optimizing the geometry of the silver, Centricut SilverLine electrodes can be used 25 to 300% longer than other silver-copper and all-copper electrodes.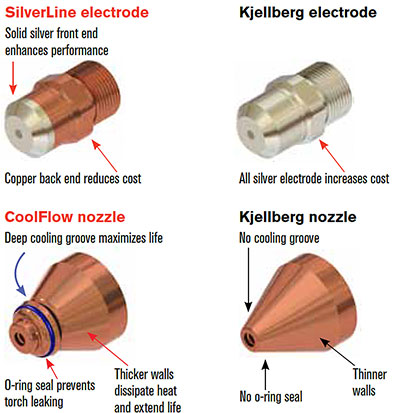 CoolFlow™ nozzle technology
Maintains orifice shape and size
Reduces torch leaking
Extends nozzle life and improves cut quality
Every plasma operator will tell you that the most common nozzle failure is when the orifice goes out of round. Maintaining nozzle orifice shape and size directly impacts nozzle life and cut quality. CoolFlow technology utilizes improved cooling features and optimizes gas flows to preserve orifice size and shape longer than any other nozzle available. O-ring placement on CoolFlow nozzles reduces torch leaking which can cause consumable and torch failure.