Lower overall costs and improve cut quality
Centricut consumables last two to three times longer than Kaliburn consumables up to 275 amps and on average more than 50% longer at 400 amps.
Achieve substantially higher cut quality over the life of Centricut consumables compared to Kaliburn.
Centricut lava swirl rings are more robust than Kaliburn ceramic swirl rings at a substantially lower cost
Centricut low-amperage stainless steel consumables have more than 20% longer life than Kaliburn consumables.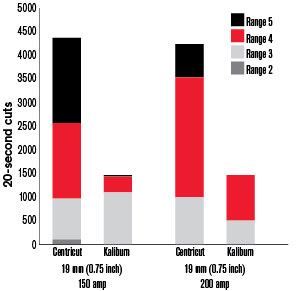 Cut with confidence – it's Hypertherm
As the recognized global leader in plasma cutting, Hypertherm® incorporates the latest engineered and patented technologies into all consumable products.
Designed with critical-to-function tolerances to deliver the best quality product every time.
Precision manufacturing of consumables assures consistency of parts, set to set.
World-class plasma-process technical support.
Easy to use – no special system set up required.