Want to lower operating costs without sacrificing cut quality? Upgrade to Centricut® consumables.
Up to twice the service life of OEM parts – so you'll cut consumable usage in half, and reduce system downtime, too
Full line of consumables, locally stocked by your Hypertherm distributor
Competitively priced compared to OEM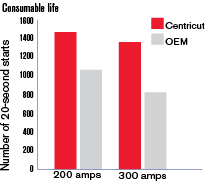 Centricut consumables for ESAB XR
Centricut® consumables for ESAB® XR applications deliver long life, fast cutting speeds, and excellent cut quality.
Centricut SilverLine® electrodes and CoolFlow™ nozzles last up to twice as long as OEM parts, and provide more consistent performance over the full life of the consumables
Full line of consumables, competitively priced compared to OEM parts
Local stocking at your Hypertherm® distributor means fast, reliable delivery
Easy to use – no special system set up required