Hypertherm technology reduces costs and improves performance
Through the use of Hypertherm's advanced SilverLine® and CoolFlow™ technologies, PT-36 consumables deliver extra value to your cutting process, beyond the capabilities of OEM and aftermarket consumables.
SilverLine electrode technology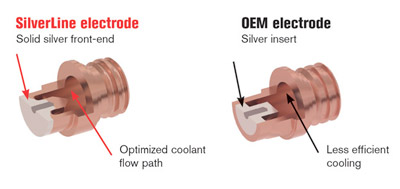 A solid silver front end maximizes cooling and minimizes hafnium wear.
Flow ridges improve starting performance and extend life.
Advanced coolant flow design reduces the temperature of the electrode and maximizes life.
Robust welded copper/silver interface delivers consistent performance.
CoolFlow nozzle technology

Computer-designed contours optimize the coolant flow in the nozzle and substantially lower the operating temperature.
Thicker nozzle walls dissipate heat away from the orifice more efficiently, leading to cooler operation.
Cooler nozzle operation directly translates into longer life of all consumables.
Cooling comparison
Analysis of electrode and nozzle cooling through the use of Computational Fluid Dynamics allows Hypertherm engineers and material scientists to optimize Centricut consumables to the highest levels of performance.