For optimum consumable life, cut quality and speed for your ESAB® PT-19XLS and PT-600 cutting process, choose our best-performing Centricut® XP3 consumables. Thanks to Hypertherm's latest plasma technologies, they last twice as long as OEM parts, and cut faster, too.
Cut consumable usage in half
XP3 consumables last, on average, twice as long as OEM
Reduce system down time associated with consumable changes
Increased productivity
XP3 consumables typically cut 25% faster than the OEM – at equivalent power levels
Process more parts per hour and more sheets per shift
Centricut XP3 vs. OEM
Cut quality over life of consumables
Cut quality measured according to ISO 9013 ranges 3 and 4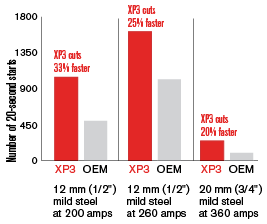 Cut with confidence – it's Hypertherm
As the recognized global leader in plasma cutting, Hypertherm® incorporates the latest engineered and patented technologies into all consumable products.
Designed with critical-to-function tolerances to deliver the best quality product every time.
Precision manufacturing of consumables assures consistency of parts, set to set.
World-class plasma-process technical support.
Easy to use – no special system set up required.